2013 WORCS ATV Racing
Round #2 - Buffalo Bills
February 10, 2013
Primm, Nevada

WORCS Racing - Round 2 - Pro ATV Race Report
::Continued::
"My Exit shocks and ARSFX A-Arms just soaked everything up. My Fasst Co. handle bars absorbed all the terrain and my GPS tires hooked up everywhere. I got the holeshot with my Duncan Racing engine and everything was great from there. It was a fun race," said Sloan.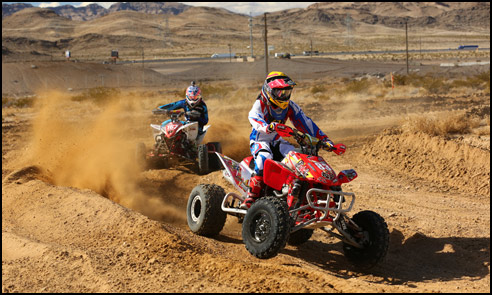 Despite Fasst Co.'s Cody Mitchell experiencing mechanical issues, Mitchell was still able to place second in the WORCS Pro-Am ATV Class aboard his Honda 450R ATV
Cody Mitchell took second place. The Nevada racer was happy to get second because he had to deal with mechanical issues throughout the race. Mitchell was followed by Bryce Peart. Peart got a mid-pack start and worked his way into third and stayed there until the checkers.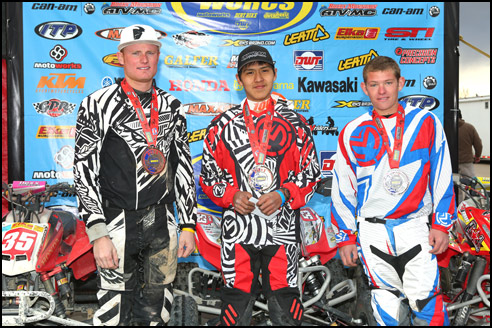 WORCS Pro-Am ATV Podium (Left to Right)
Bryce Peart (3rd), Mike Sloan (1st), Cody Mitchell (2nd)
Despite the brutal track that the racers conquered at Buffalo Bills they are all pumped to head to round three at Crazy Horse in Lake Havasu City, AZ. The battle is sure to be fierce as defending champion and points leader Beau Baron fights for his title with his teammate David Haagsma and former champion Josh Frederick not far behind.