2013 WORCS ATV Racing
Round #2 - Buffalo Bills
February 10, 2013
Primm, Nevada

WORCS Racing - Round 2 - Pro ATV Race Report
::Continued::
Baron had to work his way around several top guys - the last being his teammate, David Haagsma. Baron was able to make the final pass on Haagsma on the trophy truck section of the track. He railed a turn to pass his teammate and take over the lead. Baron continued with the hammer down and took his second win of the weekend. Baron also won the SxS Pro Production class on Saturday.
#1 Beau Baron makes his way through the Supermoto style Hot Pits at Buffalo Bill's aboard his Honda 450R ATV just before crossing the finish line in first
"I am really happy to get both wins. Taking the checkers with both my SxS and my quad is great for my points and for my team. I couldn't be happier," said Baron.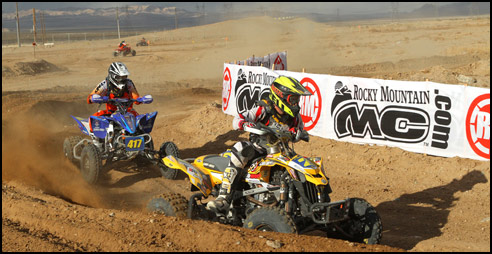 Motoworks / Can-Am's #2 Josh Frederick battled with Yamaha's #417 Josh Row for a top three position. Fredrick was able to make the pass stick before the finish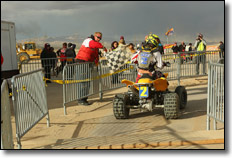 DWT's #2 Josh Frederick crosses the finish aboard his Can-Am DS450 ATV earning his first podium of the season

DWT's Josh Frederick didn't get off to the best start, but he didn't let that deter him from battling to the front. "My start was horrible and I was frustrated because everyone's so fast now. It's not easy to pass guys that are really rolling" regarded Frederick of the beginning of his race.

On lap two the dust had settled and Frederick had relaxed. Frederick began making progress through the pack and was soon battling with Josh Row for the third spot. The battled went on for a few laps, each taking turns in the top three until lap nine when they both made the pass on Haagsma. In the following lap, Frederick made the pass stick on Row heading into a turn to take over the second spot, which he held to the checkered flag.