2013 WORCS ATV Racing
Round #2 - Buffalo Bills
February 10, 2013
Primm, Nevada

WORCS Racing - Round 2 - Pro ATV Race Report
::Continued::
"I struggled once I twisted my knee. I was in pain and I started to tense up which caused my arms to pump, so I pitted and tried to relax. My knee went numb so I just rode through it the best I could. I had dropped to sixth and was able to make one pass and finish my day in fifth," said Nelson.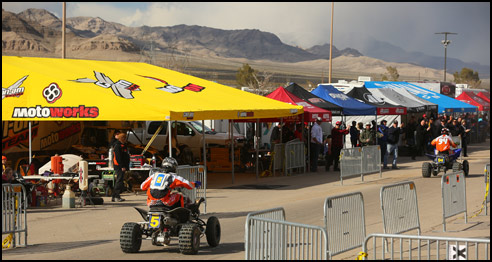 EXIT Shocks' #5 Robbie Mitchell & Yamaha's #94 Dustin Nelson racing down the asphalt Pro ATV Pits at WORCS Buffalo Bill's Round 2 in Primm, NV
Robbie Mitchell took sixth place followed by Collins Webster and Justin Waters. Both Dillon Zimmerman and Keith Johnson also started the race but were plagued with DNF's.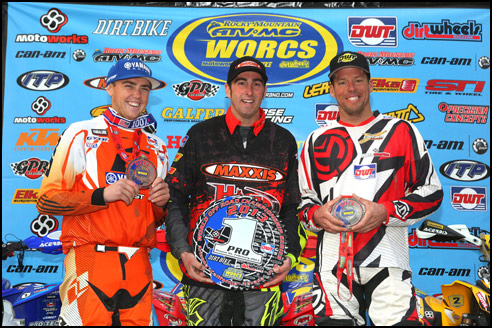 WORCS Pro ATV Podium (Left to Right)
Josh Row (3rd), Beau Baron (1st), Josh Frederick (2nd)
In the Pro-Am ATV class Mike Sloan took his first ever Pro-Am win. The Page, AZ racer got the holeshot but spun out a few turns into the race and was passed. He managed to get back by all of his competitors and rode consistently to take the class win.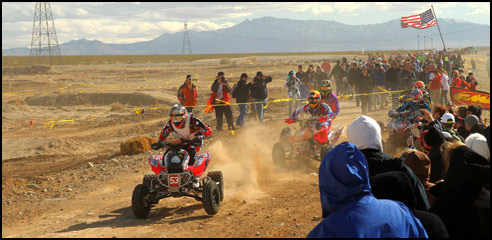 Duncan Racing's Mike Sloan grabbed the Pro-Am ATV Holeshot on his Honda 450R ATV. Sloan spun out after grabbing the holeshot but rode consistently to regain the lead