2013 WORCS ATV Racing
Round #2 - Buffalo Bills
February 10, 2013
Primm, Nevada

WORCS Racing - Round 2 - Pro ATV Race Report
::Continued::
"My Can-Am was working awesome. I've got to give it up to my team, DWT / Motoworks. They have been working nonstop in the shop to get my Maverick going. We haven't had much time with the quad, but we have made a few changes and overall I am happy with second place," said Frederick from the podium.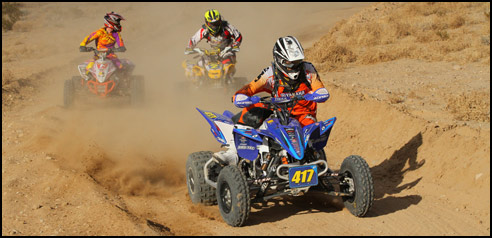 Yamaha's #417 Josh Row rounded out the WORCS Pro ATV podium in third. It was Row's first time since 2010 that he landed on the WORCS Pro ATV Podium & the first time that he put his Yamaha YFZ450R ATV on the Pro ATV Podium
Yamaha's Josh Row got off the line in second position behind his teammate, Dustin Nelson. Row dropped back a few spots with both Baron and Frederick making the pass on Row toward the end of the race, but Row held on to claim the final spot on the podium, which is the first time since 2010.
#422 David Haagsma & Yamaha's #417 Josh Row battle for position
"This is my first WORCS podium for Yamaha and it feels great! I am really stoked. My Yamaha with Walsh and FOX is unbelievable. My shocks never faded and I could hit anything. It was a great day," regarded Row of his third place finish.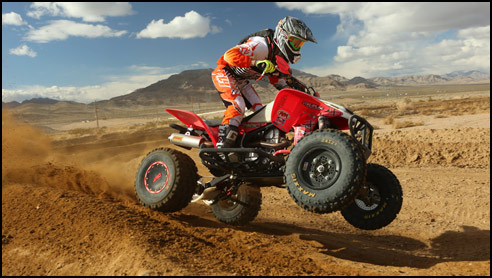 After winning his first WORCS Pro Career Win at the opening round, Maxxis / H&M Motorsports' David Haagsma placed fourth at WORCS Buffalo Bill's Round 2
Maxxis Tire's David Haagsma took fourth place. He got off to a good start and even led the race on lap four, but the racer began to fatigue and fell back in the later laps. "There are no excuses; my Honda was working awesome, but I just couldn't stay with those guys today," said Haagsma.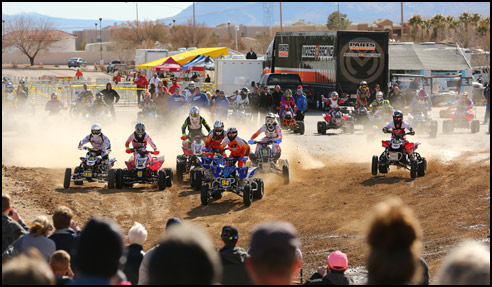 #94 Dustin Nelson grabbed the WORCS Pro ATV Holeshot & the Casey Johnson Memorial Holeshot Award of $200 aboard his Yamaha YFZ450R ATV
Yamaha's Dustin Nelson started out the race by grabbing both the holeshot and the lead. Nelson led for the first three laps and put in the fastest lap of the race on lap one, a 08:33.953. Nelson kept up his staggering pace until lap four when he caught his foot on his peg and twisted his knee. The racer was in a lot of pain and it took some time for him to regroup.