Team Cabana Motorsports Wins Heartland Challenge SxS Race
Team SXP & Team Penland Round Out Open UTV Podium
GBC Heartland Challenge Links

Carlisle, IA (8/19/2013) - The sixth annual GBC Heartland Challenge took place on a dry, dusty track surrounded by corn country in Carlisle, Iowa. Doug Gust and Andy Bizeck of Team Cabana Motorsports championed the five mile course to claim the overall win and the $1,000 purse in the Open UTV Class. Team SXP and Team Penland claimed second and third in the highly competitive class.

LazerStar lights lit up the course as the twenty two Open UTV racers took to the line for the four hour battle. The green flag dropped at seven o'clock and the checkers didn't fly until 11pm.  The start was intense with all 22 drivers in the Open UTV class on one line. They rocketed off the line and then into a quick 180 degree turn before flying into the woods.
Team Cabana Motorsports made up of former Pro ATV Motocross Champion Doug Gust & Andy Bizeck make their way around the 5 mile track a the 2013 Heartland Challenge SxS Race
Doug Gust and Andy Bizeck decided before the race started that Gust would run the first two hours and Bizeck would finish the last two in the Team Cabana Motorsports Polaris RZR XP 900. Gust had a rough start and was having trouble seeing in the thick dust. He made a pit stop and his crew rallied to fix any issues that had plagued him; he took off and quickly began picking off racers.
"Before I knew it I was in second and I didn't want to pull over and let him drive! I did and he was able to pull it off for us. He invited me out here to drive with him and I couldn't be happier. Congratulations to him and I am really happy we pulled off the win," said former ATV Pro Motocross Champion Doug Gust.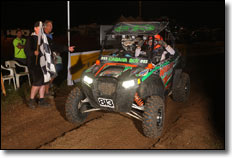 Team Cabana lead the last four laps to earn the win in their Polaris RZR XP 900 SxS / UTV at the Heartland Challenge
The Cabana Team only lost one position when they stopped to switch drivers and quickly regained the second spot. It took Bizeck four laps to overtake the lead and once he gained the number one spot he put an impressive gap on the rest of the field. The Cabana Polaris led the final four laps and was the only team to do the 22nd lap.
"I figured I didn't have anything to lose by racing the Heartland. I talked to Gust to get his help driving and we brought down my bone stock Polaris RZR XP 900 and were able to get it done. We really had a great time. This is my first win and it is absolutely huge to earn my first win at such an amazing race," said UTV owner Andy Bizeck.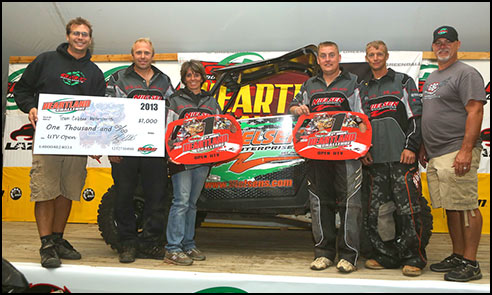 Team Cabana Motorsports celebrates the win in the Open SxS Class at the 2013 Heartland Challenge SxS / UTV Endurance Race
Jordie Reed and Rob McGee raced their SXP Polaris RZR XP 900 to second overall. It was Reed's first ever UTV race and McGee's first time as a co-pilot. The pair didn't let their lack of experience prevent them from having a great finish.
They started the marathon race in 12th on lap one and advanced to ninth by lap three.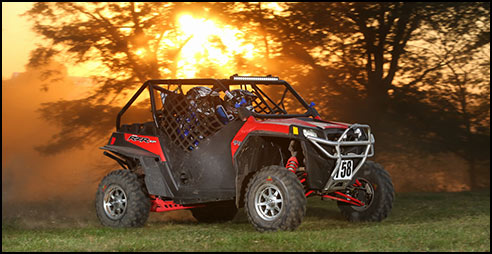 Team SXP placed second in their Polaris RZR XP 900 SxS / UTV