2015 WORCS Racing
Round #1 - Honolulu Hills
January 18, 2015
Taft, California

WORCS Racing - Honolulu Hills - ATV Race Report
Beau Baron Wins WORCS Racing Pro ATV Class
WORCS Racing - ATV / SxS Links
Taft, CA (1/19/2015) - Defending Pro ATV champion, H&M Motorsports' Beau Baron claimed the win at Honolulu Hills MX at round one of the 2015 WORCS series and was joined on the podium by teammate David Haagsma in second and Robbie Mitchell in third.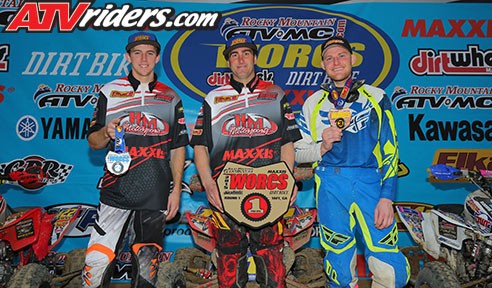 WORCS Racing Pro ATV Podium (left to right)
David Haagsma (2nd), Beau Baron (1st), Robbie Mitchell (3rd)
Foggy conditions that were present for the SxS classes on Saturday had cleared a bit by Sunday afternoon, just in time for the Pro and Pro-am ATV races. Visibility was good and dust wasn't an issue unlike last year, making for great racing conditions for the first round of the 2015 WORCS series.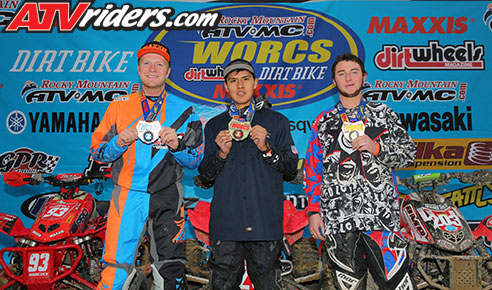 WORCS Racing Pro-Am ATV Podium (left to right)
Matt Hancock (2nd), Mike Sloan (1st), Auston Baxter (3rd)
When the flag dropped it was H&M Motorsports' David Haagsma who was first off the line and grabbed the holeshot, but his teammate Beau Baron was hot on his heels. Baron stayed close, pressuring Haagsma for the entire first half of the race. Finally, Baron made his move and took the lead.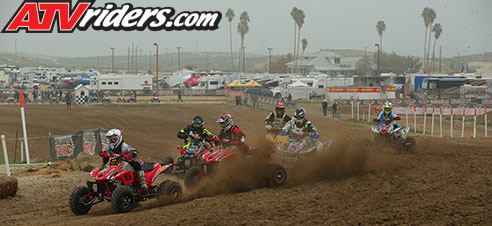 David Haagsma grabbed the holeshot on his Sparks Racing powered Honda 450R
"David was going so fast that it was hard to get around because of all the roost. I took a chance on a downhill and took the outside line for the lead right before stopping in the pits," said Baron.
#1 Beau Baron was able to make a pass on #422 teammate David Haagsma on a downhill section to briefly take over the lead about half way through the race
Haagsma was able to take back the lead for a brief time when Baron stopped for fuel.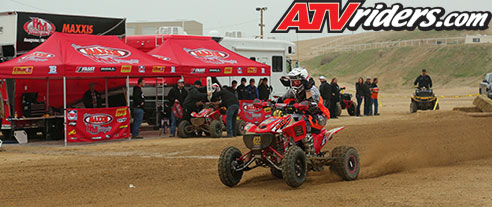 #422 David Haagsma was able to retake the lead on #1 Beau Baron in the pits