2015 WORCS Racing
Round #1 - Honolulu Hills
January 17, 2015
Taft, California

WORCS Racing - Honolulu Hills - SxS Race Report
RJ Anderson Wins WORCS Racing Pro SxS Class
WORCS Racing - ATV / SxS Links
Taft, CA (1/19/2014) - Round one of the 2015 Rocky Mountain ATV/MC WORCS Racing series kicked off this weekend at Honolulu Hills MX in Taft, California where Polaris/Walker Evan's RJ Anderson claimed his first Pro Production SxS win of the season and was joined on the podium by H&M Motorsports' David Haagsma in second followed by Nelson & Nelson's Ryan Piplic in third.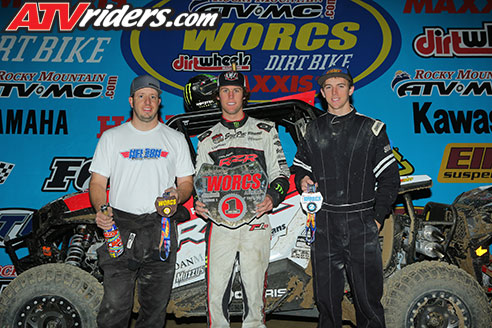 WORCS Racing SxS Pro Podium (left to right)
Ryan Piplic (3rd), RJ Anderson (1st), David Haagsma (2nd)
Due to increase popularity in UTV / SxS racing at the WORCS series, new classes were added this year including the Pro Stock, 1000 Stock and Ace classes. The addition of the Pro Stock class was a welcomed addition to help separate things a bit in the Pro ranks with both the Pro Production and Pro Stock SxS classes hosting about 20 racers.
WORCS Racing SxS Pro Stock Podium (left to right)
Ronnie Anderson (3rd), David Mayhew (1st), Codey Rowley (2rd)
In the new Stock classes there was little confusion by some of the racers on the airbox rule, which states cannot eliminate their air box on their SxS/UTV and must run the stock air box; however, they are allowed to change the filter element, and due to some confusion there was some exceptions allowed at the opening round, but the airbox rule will be fully enforced for WORCS round two at Buffalo Bill's Casino and Resort.
The weather for the weekend was interesting. Usually, the conditions for that area are dry and sunny, but this year, the track was socked in with thick fog for most of the weekend. For Saturday's races, the fog stayed intact, but it did not have much of an impact on visibility and it did help to keep dust all but eliminated, which is normally an issue at Honolulu Hills MX.
In the Pro SxS main event, RJ Anderson started on the front row, and he got off to a great start by grabbing the Holeshot and quickly began to pull away. "Part of the racing is getting a good start; it keeps your SXS light, not getting all mudded out right of the bat, and just the track position; even if you're faster than someone it takes a whole car length to get by someone, so It's tough to pass, so the start is definitely a huge part of the race," said Anderson.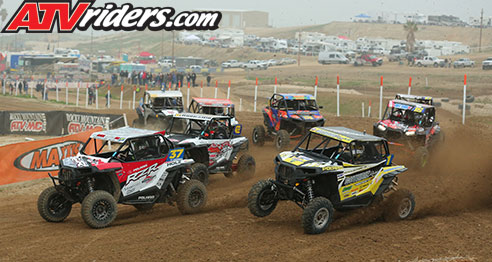 RJ Anderson grabbed the early lead by taking the holeshot in the WORCS Racing Pro SxS Class driving his Polaris RZR XP 1000
Despite his holeshot, Anderson was not alone. "Mitch Guthrie wasn't far behind me off the start, and I knew he was right there, so I was trying to pace him a little bit. I didn't want to push the RZR too far and run it into the ground, but I knew that I needed to keep a big enough gap so I ran pretty hard the first 2 laps. After the 2nd lap, I kind of looked back and saw that Mitch was gone and it was only Beau Baron back there so I backed off a little bit because I had a decent gap on him. The next lap I came around I looked back and Beau was a little bit closer, so I just kind of kept that same pace because I knew at that rate he couldn't get me by the end, so I was trying to save the SxS enough while maintaining a fast speed," said Anderson, who took his Polaris RZR XP 1000 to the top of the Pro SxS podium.
Despite being in the points lead after his win, Anderson is still a little disappointed as he will not be running the whole WORCS series for the championship due to schedule conflicts. "Unfortunately I won't be running every race this year, I got the points lead for this one, but in the next round I won't be there. I was trying to run it, but I've got a trip I'm going on to Dubai, so that will be awesome," he added.
RJ Anderson earned the first win of the season that Honolulu Hills WORCS