2015 WORCS Racing
Round #1 - Honolulu Hills
January 17, 2015
Taft, California

WORCS Racing - Honolulu Hills - SxS Race Report
::Continued::
H&M Motorsports' David Haagsma stepped up to the Pro SxS class this year after claiming the 2014 WORsCS SxS 1000 class championship, and he quickly made his presence known among the SxS Pro ranks. "I got a great start and ended up third on the start. You know it's the first race, and I really didn't want to wad myself up. I don't really have the pace to stay with them, but my SxS was able to stay together and finish second.  But yeah, I just have to get used to going this fast, and to get some time under my belt with these guys and then I think I can compete for the championship. It was a lot of fun, and it was kind of a rude awakening to how fast these guys are too," said Haagsma.
After winning the WORCS Racing SxS 1000 Class championship last year, David Haagsma made the move to the SxS Pro Class. Haagsma took second at round 1
Even though it was his first Pro race, Haagsma still held his own and rode a solid race to take a second place finish. "I know finishing is a huge thing in this sport, I think Beau had issues and Mitch had issues, and those two honestly were a lot faster than me today, but I was able to bring it home in second and it's nice to get a good start to the year. I'm pumped, it's nice to show the sponsors that I could've done it, you know, that they believe in me, and now I've got to keep on the podium so we'll see how it goes," said Haagsma.
Despite having an issue with his steering wheel, Ryan Piplic was able to finish his first race of the season and claim the final spot on the Pro SxS podium. "I just kind of rode my own race out there. After the first lap, I had an issue where my steering wheel kept popping off. I would have to slow way down to about 5MPH and it would pop back on. I started catching up at the end, but for the most part I was in my own field the entire race," explained Piplic.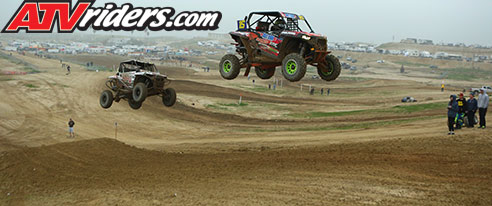 #15 Ryan Piplic catches some air over one of the huge jumps at Honolulu Hills WORCS. Ryan Piplic rounded out the WORCS Racing SxS Pro Podium in third
The number 176 of ITP's Nick Thompson finished only one minute behind Piplic for a fourth place, while Mystic Lubricant's Tim Wyatt returned to the series and rounded out the top five.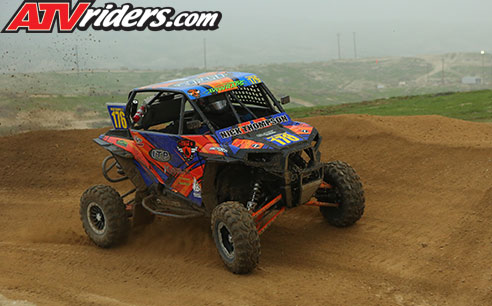 ITP's Nick Thompson finished fourth at WORCS Racing Round 1 in Taft, CA
Defending Pro SxS champion, Beau Baron was looking good off the start and held the second spot till the last lap, but he encountered issues with his belt, which sent him back to a sixth place finish after replacing the belt on the track.

Beau Baron was sitting second behind RJ Anderson until the last lap when he experienced issues with his belt which forced him to drop back to sixth
David Martinez took his Can-Am Maverick to the number seven spot, while Matt Hancock, made his Pro SxS debut in eighth. Keith Johnson held on for ninth place, and WORCS veteran and former Pro ATV Champion, Doug Eichner rounded out the top ten.