2009 KTM 450SX & 505SX Race Ready ATV - SX Engine
KTM Engine Specifications:

450 SX

505SX

449cc DOHC 4-Valve liquid cooled
Bore 97 mm, Stroke 60.8 mm
Compression Ratio 12.5:1

477cc DOHC 4-Valve liquid cooled
Bore 100 mm, Stroke 60.8 mm
Compression Ratio 12.5:1
KTM 450SX and 505 SX ATV Engine
Engine Cases
Re-designed engine cases with modified engine ventilation system. Accommodates a deep oil sump allowing better engine performance and increased oil capacity: 1.8L.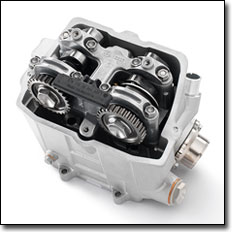 KTM 450SX and 505SX ATV Engine showing the Double Overhead Cam Setup
Transmission
Close ratio 5-speed transmission, no reverse. Provides the right gear for all track conditions.
Electric Start
Engine was reduced to electric starter only. Quick to start in any situation resulting in less rider fatigue.
Cylinder Head
Two overhead camshafts and DLC-coated finger followers drive the four Titanium Valves. High tech performance engine.
Crankshaft Drive
With its design it maximizes the centrifugal mass and ensures optimum power output.
| | |
| --- | --- |
| | |
| KTM's SX ATV Crank Shaft | KTM's SX Model Clutch Basket Assembly |
Clutch
MAGURA hydraulic clutch with stainless steel braided clutch line and quick change clutch cover. This maintenance-free clutch pulls in effortlessly and has automatic adjustment.
Lubrication
Common oil lubrication for engine, clutch and gearbox. Optimized dry sump design with increased oil capacity for ATV use. Easy access to the oil filter keeps maintenance simple.
| | |
| --- | --- |
| | |
| KTM's SX ATV Engine Lubrication | KTM's SX ATV Carburator |
Cooling System
Lightweight curved aluminium radiator is fitted with an electric cooling fan. Thermostat helps maintain constant engine temperature. Curved shape helps improve air flow for better cooling.
Carburator
Keihin FCR-MX 41 mm flat slide carb with acceleration pump and TPS. Very responsive and easy to tune.
| | |
| --- | --- |
| | |
| KTM's SX ATV Model Air Box | KTM's SX Aluminum Exhaust System |
Airbox
Unique Airbox with specially designed snorkel that allows for increased air intake due to higher engine revs. Air intake draws from the highest point to reduce intake of water and mud. Quick release seat and no tools required to service air filter allows for easy service.
Exhaust
Performance tuned header pipe and modern SX aluminium silencer with integrated filter that meets sound requirements. Lightweight, high flow design.