Heartland Challenge 10 Hour ATV Race Report
Team Yamaha Wins GBC Heartland Challenge
GBC Heartland Challenge Links
Carlisle, IA (8/20/2014) - Team Yamaha claimed the overall win at the seventh annual GBC Heartland Challenge 10 Hour ATV endurance race while Team TQRA claimed the Series Challenge win, and Team IATVHSS rounded out the top three overall.
Heartland Challenge AA ATV Podium (left to right)
Team Halfast Lightfoots (3rd), Team Yamaha (1st), Team Spider Graphix (2nd)

GBC Motorsports returned as the title sponsor for 2014 and helped put on a great event that saw over 70 teams competing in the ATV classes. "Attendance was way up this year for both the ATV's and SxS's; it was really good. It's a unique event that draws families and people from all over the country. It's not cross country and it's not motocross, it is just very different from any other events out there," stated event promoter, Andy Kyner.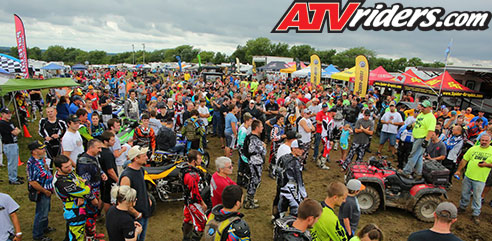 Many ATV Racers & fans gathered in Carlisle, Iowa to participate in the 2014 GBC Motorsports Heartland Challenge Endurance Race
Over the last couple of years, dry weather had created issues with dust, but that was not the case this year as rainy weather dominated the forecast in the days leading up to the event. Saturday's ATV race started out overcast, but cleared over the course of the day, leaving the track nice and tacky.

The Heartland Challenge Endurance Race starts with a GP Style start & Yamaha Team's Walker Fowler grabbing the Holeshot
The course was long with plenty of elevation changes in the fields and woods, and of course the track could not be complete without a "Challenge" section. The Challenge section was the toughest ever and many riders got stuck. Luckily, there was an alternative way around that was much easier, but cost more time, which seemed to be a very popular option.
The Challenge section was the toughest ever, even some of the 4x4 Utility ATV Racers had troubles navigating the large rocks, logs, & tires early into the race
The near perfect conditions helped Team Yamaha, consisting of Walker Fowler, Johnny Gallagher and Cole Richardson, charge their way to the AA class, and the overall win after a grueling 37 laps. The team led from start to finish and consistently recorded some of the fastest lap times of the race.
The Yamaha Team of Walker Fowler, Cole Richardson, & Johnny Gallagher earned the win in the AA Class aboard their AmPro NFab Yamaha YFZ450R