2012 AMA Racing
ATV Extreme Dirt Track Nationals
Round #6 - Batavia, New York
Batavia Motor Speedway
August 11, 2012

Maxxis' Brad Riley Takes the Pro-Am Unlimited Class Win
::Continued
PRO-AM UNLIMITED ATV MAIN
During the Pro-Am Unlimited race it would be a very hard charging Brad Riley who would take charge immediately and claim victory at the end of the checkered flag. Riley put on a very good showing going nearly uncontested during the entire race. However, #117 Jared Hulliung would contest Riley off the start and come neck and neck down the front stretch and into the holeshot. Riley would prevail and come away with the victory aboard his Maxxis/Two Se7en Motorsports Honda.

Two Se7en Motorsport's #27 Brad Riley grabbed the holeshot in the Pro-Am Unlimited Class & lead from start to finish to secure the win
"I can't thank my sponsors enough to be able to help me get to the top of the box. I took first earlier in the heat race as well and my bike was dialed in for this slick track. Lots of elevation changes and different styles of jumps were unique but I liked it a lot," said Riley.
#25 Chuckie Creech was in a great position off the start coming out in third place and only having to pass one rider to get into the second place position before the checkers flew. "I came off the line in 3rd and was able to get by Jared. From there I tried closing the gap on Riley but just couldn't move in any closer than about 4 bike lengths. I felt really good out there and just rode my own race," said Chuckie.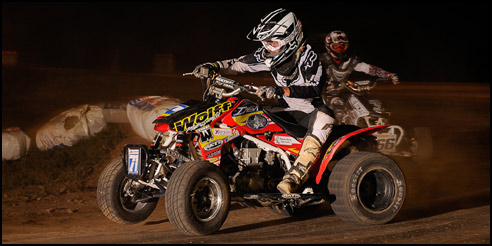 #71 Nathan Wolff secured the final spot on the Pro-Am Unlimited podium behind #25 Chuckie Creech
#71 DASA's Nathan Wolff of Wolff Motorsports would come off the line in fourth place behind fellow Wolff Motorsports rider Jared Hulliung. Wolff would be able to get around Jared early on in the race and apply the pressure to the top runners. " I'm happy to be up here with these guys after a long race. My Honda was running great and I'm looking forward to the rest of the season," said Nathan.
Extreme Dirt Track Pro-Am ATV Racing Podium (left to right)
Nathan Wolff (3rd) , Brad Riley (1st), Chuckie Creech (2nd)
#117 Jared Hulliung would rip off the line aboard his Southern Illinois Chopper's Hyosung TE450 and nearly take the holeshot away from Riley. Hulliung would go on to take a fourth place finish, one of the best of his career in this pro-caliber class. " My Hyosung was running really awesome and was perfectly dialed in for this track and I, myself, felt really good out there," said Jared.
#171 Jared Hulliung came out in the 2nd spot ahead of #25 Chuckie Creech, but by the checkered flag Hulliung finished just off the podium in the 4th spot
#92 Michael Houghton was also in really good shape during the Pro-Am Unlimited race as he would walk away with a fifth place finish aboard his Honda TRX450R. Houghton would have to do battle with #99 Gordy Racing's Paula Shank but would be able to get around her within the first 5 laps.
The final two rounds of the series will be held at the vast Busco Beach complex in Goldsboro, North Carolina on August 31st and September 1st. Be sure to come out to the exciting ending to this 2012 season as the Pro's, women, and amateurs lay down their final rubber of the season.