2014 Polaris RZR XP 1000 SxS / UTV
::Continued::
The news doesn't stop there! All this performance rides on an all-new tubular chassis featuring substantial improvements in stiffness and durability. On top of the chassis, is an all new interior designed for a more responsive feel for the driver, refined comfort, and features unique to the RZR family.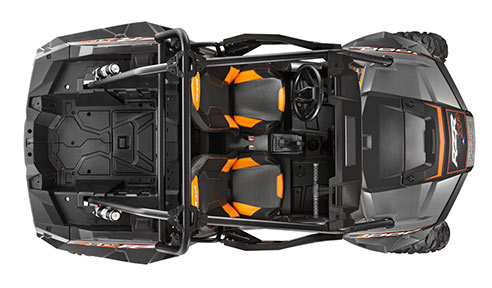 The 2014 Polaris RZR XP 1000 SxS / UTV has a redesigned interior & features a larger cargo box & gas tank than the Polaris XP 900 SxS / UTV
The newly-designed seats offer substantially improved bolstering and 100 percent more hip cushioning for a more secure feel, and feature a new thin-film technology under the cover for a drier ride in wet conditions. Both driver and passengers will appreciate new seat sliders for tool-less, on-the-ready seat adjustment along with additional leg room, and space-optimized dead pedals for both the driver and passenger.
2014 Polaris RZR XP 1000 SxS / UTV feature easy to use factory installed quarter doors for more elbow room & better protection
2014 Polaris RZR XP 1000 SxS / UTV quarter door
The driver will appreciate a new, stiffer steering wheel designed for comfort and a more responsive feel. The Polaris RZR XP 1000 features factory-installed quarter doors designed for more elbow room and extra protection from debris. A high-strength, easy-access latch allows one hand operation and no-look closing. For improved adjustability, the unit features a new, innovative, flow-through tongue seat belt design that is easier to adjust and retract. The sealed belt retractor housing ensures the belts will endure through the nastiest conditions.
Inside the cockpit, Polaris RZR XP 1000 owners will enjoy LED floor lighting and a slick blue back-lighted instrument cluster, readable both in direct sunlight and at night.
The 2014 Polaris RZR XP 1000 SxS / UTV comes standard witha back lit instrument cluster and LED floor lighting
To accommodate the need to stay connected, the unit features sealed smartphone storage that provides visibility of the display while protecting it from the elements and a 50 percent larger glove box to take more stuff along.