2014 Polaris RZR XP 1000 SxS / UTV
::Continued::
The Polaris RZR XP 1000 conquers whoops and soaks up chatter with its 90 in/228.6 cm long wheelbase and industry-exclusive 29 in/73.7 cm Maxxis Bighorn tires on all new 14 in/35.6 cm cast rims. The larger tire provides both better ride and higher resistance to pinch flats.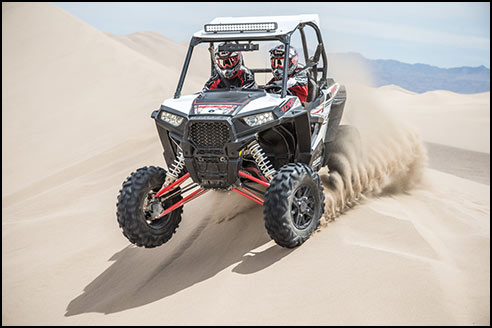 The Walker Evans Position Sensitive Anti-Bottoming Needle Shocks gives the 2014 Polaris RZR XP 1000 SxS / UTV great handling & a smooth ride
For a near-bottomless feel, the Polaris RZR XP 1000 boasts industry-exclusive Walker Evans Position Sensitive Anti-Bottoming Needle Shocks on all four corners. These exclusive shocks feature piggyback reservoirs up front and remote reservoirs in the rear that are 16-position compression adjustable with preload adjustability. These 2.5 in/6.4 cm diameter rear and 2 in/5.1 cm diameter front needle shocks are extreme performance shocks from one of the best in the business. Capable of handling high speeds and extremely rough terrain, the internal needles interact with specifically-positioned chambers allowing progressively more damping deep into shock travel to improve ride performance and increase bottoming resistance. The shocks are paired on all four corners with the dual rate/dual spring coil-overs for 18 in/45.7 cm of rear travel and 16 in/40.6 cm of front travel to provide a comfortable ride in all terrains.

The 2014 Polaris RZR XP 1000 SxS / UTV features an On-Demand All-Wheel-Drive system that is is 80% stronger for better durability
The Polaris RZR XP 1000 is the most responsive to the terrain and driver providing unmatched agility under all conditions. To ensure the vehicle's High Performance On-Demand All-Wheel-Drive system could handle the industry-leading power and provide the ultimate in responsiveness to the terrain, Polaris revamped the system for an 80 percent improvement in strength. The result is the most durable front drive system ever found on a RZR. The system features a brand-new, close ratio final drive to keep the front wheels pulling stronger and longer maximizing power delivery to the ground in every condition. The system is seamlessly paired with standard Electronic Power Steering and nimble 18 ft/ 5.5 m turning radius to provide unmatched point-and-shoot handling making the vehicle very responsive to the driver. For even more control, the unit has quick, two-turn, lock-to-lock steering allowing the operator to showcase the point-and-shoot agility the vehicle has in response to all terrains.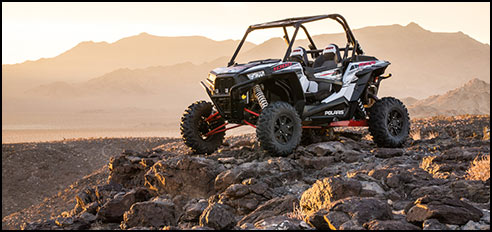 29 inch Maxxis Bighorn Tires mounted on 14 inch wheels provide better grip & higher resistance to puncture while riding in rough or rocky conditions
With industry leading acceleration and agility, the stopping feel and power must be precise. No one has ever delivered braking balance and performance better than RZR, and the new Polaris RZR XP 1000 is no exception. With dual piston calipers and larger 248mm ventilated discs on all four corners, the operator has unequaled confidence around every turn.