2014 Polaris RZR XP 1000 SxS / UTV
107 Horsepower Polaris RZR XP 1000 SxS / UTV
2014 Polaris RZR XP 1000
SxS / UTV Links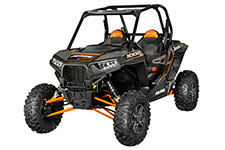 2014 Polaris RZR XP 1000 SxS / UTV
Minneapolis, MN (7/29/2013) -
Today, Polaris announces the launch of a Polaris RZR beyond compare, the 2014 Polaris RZR XP 1000 SxS UTV ! The new Polaris RZR XP 1000 brings significant innovations to each of the hallmark Power, Suspension and Agility aspects of RZR. PLUS, the Polaris RZR XP 1000 adds an entirely new level of interior comfort and accessory customization to give riders the premium features they deserve.
Since the introduction of the Polaris RZR 800 SxS / UTV for Model Year 2008, Polaris has defined and led the recreational side-by-side market. Since that first launch, the company has consistently introduced models with unmatched performance which are highly sought after by off-road enthusiasts. Polaris RZR side-by-sides are the gold standard in recreational vehicles due to their ultimate combination of power, suspension and agility for trail, high performance and multi-passenger recreation.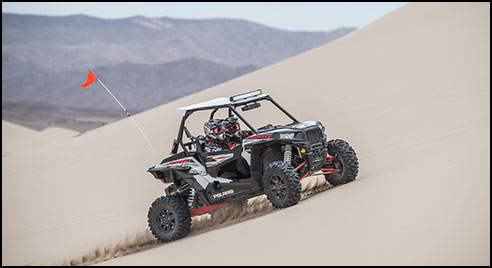 The All-New 2014 Polaris RZR XP 1000 SxS / UTV comes stock with 107 Horsepower!
Specifically built for the pinnacle of extreme performance, an all-new Polaris ProStar 1000 engine provides an industry-leading 107 horsepower with a true 999ccs of displacement, making it the most powerful and largest engine in its class.
For unmatched throttle response and acceleration, the ProStar 1000 was developed with dual 48mm throttle bodies with new long tip fuel injectors, ensuring each cylinder is supplied with the air and fuel it needs to produce unmatched power on demand.
To deliver that power to the wheels, the Polaris RZR XP 1000 has an ultra-efficient driveline featuring a retuned, high performance PVT system to distribute the massive107 horsepower from the engine to the transmission. Polaris also specifically geared the transmission to optimize the power of the ProStar engine. With greater than 80 percent of peak engine torque available from 3500 to redline, the Polaris RZR XP 1000 has huge torque on tap for the most aggressive dune and desert riding.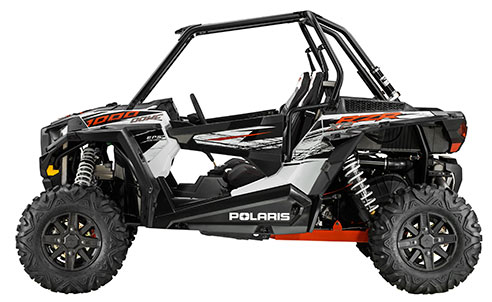 The 2014 Polaris RZR XP 1000 SxS / UTV features a 3-link trailing arm rear suspension paired with Walker Evans Shocks
To fully utilize the new-found power, the vehicle needs suspension and agility, and the Polaris RZR XP 1000 delivers in true RZR fashion. The unit boasts the most advanced suspension for the most control and smoothest ride at any speed. To float over bumps, the Polaris RZR XP 1000's 3-Link trailing arm rear suspension features upgrades in both geometry and design offering 25 percent more ground clearance at the trailing arm and giving the vehicle a whopping 13.5 in/34.3 cm of ground clearance. The new 3-link geometry allows surface-hugging grip as the vehicle pulls through corners from the use of optimized camber gain, and the increased length of the new trailing arm provides a better ride and additional strength. Up front, the Polaris RZR XP 1000 features an exclusive front suspension geometry that results in less steering effort for easy maneuverability.