Yamaha Raptor 250 ATV Links

2008 Yamaha Raptor 250
Long Beach, CA
- In 1988 when the Yamaha Blaster 200 made its debut, it quickly became one of the top selling quads of its time. However, with today's emissions standards becoming more and more restrictive, its two-stroke power plant has become less than desirable to many consumers, so Yamaha decided to stop production of the Blaster, and released the new sportier electric-start, Raptor 250 4-stroke in its place.
The all-new Yamaha Raptor 250 styling & ergonomics has dramatically improved over the Blaster, which is very apparent even in side by side visual comparsion, and amazingly it is 15lbs lighter than the Blaster ready to ride at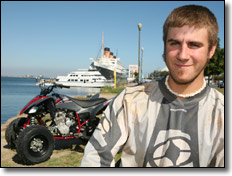 2006 GNCC Sport Class Championa
Joey Margaria
Yamaha recently invited ATVRiders.com to come out to Long Beach, CA and test ride the Raptor 250 to see what we thought of it, compared to the old Blaster 200. We figured it would be a good idea to bring along someone who could give an expert opinion on this new quad, and who better to give their point of view than someone who regularly races a Blaster, so we invited GNCC Sport Class Champion, Joey Margaria, to accompany us to Long Beach, CA to test ride the Raptor 250. Margaria not only won the Sport Class Championship, he also is the only person to finish first overall at a GNCC on a Blaster, against hundreds of 450 machines, therefore, he seemed to be the perfect candidate to give his opinion on Yamaha's new machine.

We met up with Yamaha's product development specialist, Patrick Biolsi at Queen Mary Park, which is located along the waterfront in Long Beach. We were greeted by an incredible view of the Long Beach Harbor, and the Queen Mary docked in the background. Yamaha had a track specially set up for our test ride at this location, which was a wonderful scenic variation from other SoCal desert tracks. Eager to get our hands on Yamaha's new product, we didn't waste any time getting out on the track.