Missoula, MT (11/30/2015)
- Honda raises the performance bar for the multipurpose SxS / UTV industry with the release of the 2016 Honda Pioneer 1000. Honda's newest addition to the Pioneer SxS / UTV model lineup proved to be an all-around great off-road vehicle during our recent test drive in Montana.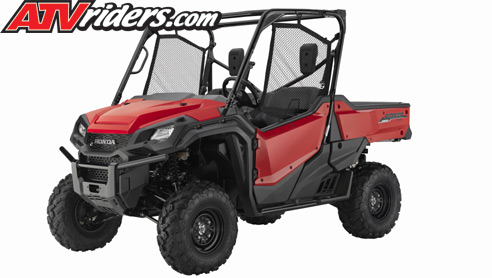 2016 Honda Pioneer 1000 EPS
The Honda Pioneer 1000 was announced in June, and they started shipping out to dealers in October, so Honda invited the media to the Paws Up Resort near Missoula, MT to test drive their newest addition to the Pioneer lineup at nearly the same time the Honda Pioneer 1000 started shipping to dealers.
For our test drive, Honda brought out the Pioneer 1000 & Pioneer 1000-5 & they all were equipped with the optional roof & upgrade Maxxis Big Horn tires mounted on Aluminum 14" wheels
When Honda released the Pioneer 700 in 2013, they told us they were just getting their feet wet, and it was their first of many new UTV / SxS vehicles they planned on releasing, and that statement has proven true with Honda adding a new model to the Pioneer family each year. Last year the 50" wide Honda Pioneer 500 was released, and now Honda has released the most impressive model yet with the Pioneer 1000.
The Honda Pioneer 1000 is nearly a true 1000 with its 999cc engine, which is the largest in its class, and it is paired with an SxS industry first 6 speed fully automatic dual clutch transmission. The engine and transmission package is the best combination that we have ever tested in its class.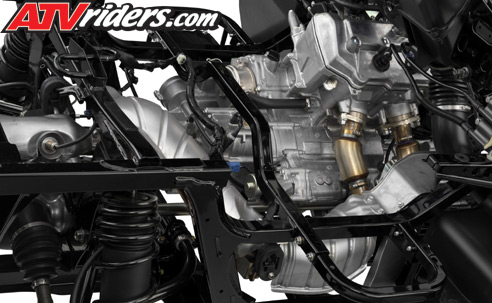 2016 Honda Pioneer 1000 has a 999cc liquid cooled engine paired with Honda's Dual Clutch Transmission
The 999cc parallel-twin engine is a brand new engine built specifically for the Honda Pioneer 1000, which produces 77 horsepower from the factory. The engine provides plenty of performance, and the dual clutch transmission provides a very smooth power delivery with its automatic transmission. Our favorite feature is the ability to override the automatic transmission with the steering wheel mounted paddle shifters on the Pioneer 1000 EPS models we tested.
Honda Pioneer 1000 has all your drive controls within easy reach of the driver with your standard (P, R, N, H, L) & (4WD, 2WD, Diff Lock, Turf) shift levers along with a toggle switch for Auto, Manual, Sport Modes