Arctic Cat Prowler XTZ 1000
Side-by-Side Links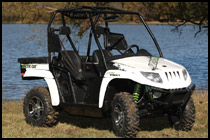 2011 Arctic Cat Prowler XTZ 1000 UTV / SxS
Decatur, TX -
The Arctic Cat Prowler XTZ1000 was first introduced in 2009, and as the first side-by-side to boast 951cc of power, it quickly became one of the most popular vehicles in Arctic Cat's line up. For 2011, Arctic Cat has taken its flagship high performance SxS and made it even better for 2011.
Our first encounter with the Prowler XTZ1000 was with the 2009 model in the Badlands of South Dakota. And while we were impressed with the XTZ1000's power and performance we did have a few concerns about some of the safety features of the machine, but for 2011 Arctic Cat has addressed those concerns and made the necessary improvements to ensure the safety and comfort of its customers.
When ATVRiders.com had taken the 2009 XTZ1000 out on a test ride, we managed to get to a top speed of 70mph, which was far above what any of the competition was offering at the time, and one thing that made us a little nervous was the roll cage, which featured a square bar design, that we felt was lacking in protection.
For 2011, Arctic Cat has added many new safety features to the XTZ 1000 with the addition of floor board side panels & safety nets
Now, for 2011, Arctic Cat has taken the initiative and incorporated an ROSP certified round tube roll cage and they have also incorporated foot side panels and side nets for added protection to help keep your body inside the cab, in case of a mishap. We were very impressed with these features and it made us feel very comfortable and safe when we put the 2011 XTZ1000 to the test at Rocky Ridge Ranch in Decatur, Texas.
Rocky Ridge was a great place to put Arctic Cat's high performance Prowler to the test. With plenty of rocky trails, wide open areas, and even a few good sized jumps, we couldn't wait to get going and see what kind of punishment the XTZ could handle.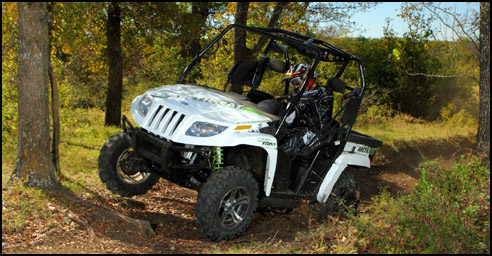 The 951cc single overhead cam, V-twin powerhouse of this machine provides excellent power and the EFI ensures a steady and instant throttle response, while the lighter weighted spring in the foot throttle also helped to reduce fatigue. The automatic CVT transmission with EBS seems to shift effortlessly, helping to provide a very smooth ride.