Arctic Cat 350 ATV Links
Arctic Cat 425 ATV Links
Arctic Cat XC450i ATV Links
Arctic Cat's utility ATV lineup has always had plenty of variety and is known for their durability, and their new 2011 models are no exception. Arctic Cat's new 350, 425 and XC450i models are sure to please all levels of riders from beginner to the aggressive trail rider.
Arctic Cat is also the first ATV manufacturer to think outside the box in its sales and marketing efforts by joining forces with Bass Pro, which recently began a partnership with Arctic Cat to sell their ATV and Side by Side vehicles at their retail locations. This was a big move for Arctic Cat as it puts the manufacturer's product in front of millions of potential customers that may or may not ever set foot in an ATV dealership and will now be exposed to Arctic Cat's products.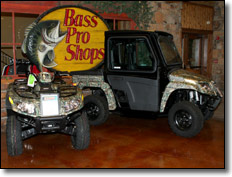 Bass Pro Shops retail locations sells and services all Arctic Cat models including the Arctic Cat 350, 425, and XC450i & Arctic Cat also teamed up with NASCAR's Jamie McMurray
Arctic Cat was also looking for a partner that could service as well as sell their products so a deal was struck. In addition to selling Arctic Cat's vehicles, it was arranged so that Bass Pro Shops also provide in-house service for Arctic Cat products so that it can better serve its customers without the inconvenience of having to track down a repair shop if any problems should arise. Bass Pro Shops also carries a full line of ATV and SxS accessories that can be purchased either on line or in person at one of the many locations nationwide, giving Arctic Cat an edge over their competitors.
ATVRiders.com was recently invited to the press intro for the new 2011 Arctic Cat models in Texas at the Rocky Ridge ATV Park. The weather was picture perfect for our ride and the scenery was top notch. The area offered up many miles of trails with a great mix of mud, rocks, wide open areas and gravity defying hill climbs, all of which we thought was a great place for testing the Arctic Cat's abilities.
2011 Arctic Cat 350 4x4 Utility ATV - Test Ride Review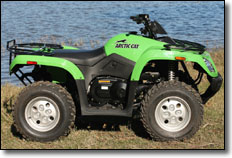 2011 Arctic Cat 350 4x4 Utility ATV
First up was the Arctic Cat 350 utility quad. The Arctic Cat 350 Utility ATV is a great entry level ATV that is based off of Arctic Cat's popular 366 model. It features a 366cc four stroke engine, a 34mm Keihin carburetor with an electronic automatic choke for easy starting, even on cold days. At $5,499.00, the 350 is a good value 4x4 and it has more full-size ATV features than its competitor's models in its class.
| | |
| --- | --- |
| | |
| The Arctic Cat 350 features a Duramatic automatic transmission that features low, high, neutral, and reverse | The Arctic Cat 350 rear rack features the SpeedRack that allows quick installation and removal of Arctic Cat accessories |