TORC's Red Bud Rumble Round 10 UTV Race Report
::Continued::
In Pro Stock, Jake Lunderby came out of nowhere at the start, taking the lead and pulling away from the pack. Meanwhile, Greaves was making up ground from his fifth-place start, moving to second before the lap-five competition caution.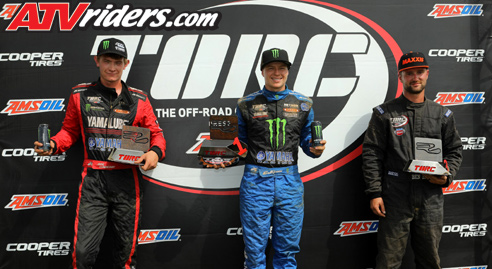 TORC Pro Stock SxS / UTV Podium (left to right)
Jake Lunderby (2nd), CJ Greaves (1st), Ben Enloe (3rd)
On the restart, Lunderby was again quick and began gapping the field. Greaves caught up to him and was just waiting for a mistake. That mistake came on the final lap when Lunderby bicycled his Yamaha three turns from the finish, handing the lead and the victory to Greaves. Lunderby was second, earning his third consecutive podium. Ben Enloe finished third, grabbing his first podium, ahead of the Yamahas of Zach Martin and Kenny Masch. Greaves now owns a 43-point lead in the championship.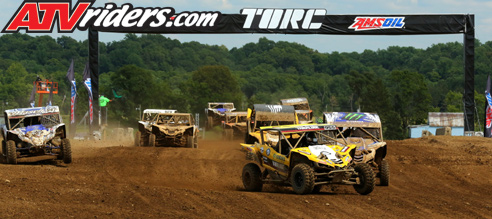 Yamahalube's Jake Lunderby held the lead for most of the race with CJ Greaves in chase
Greaves, who has dominated nearly every race this year, had fits trying to gain on Lunderby. Trying every line possible, he was prepared to have his win streak broken.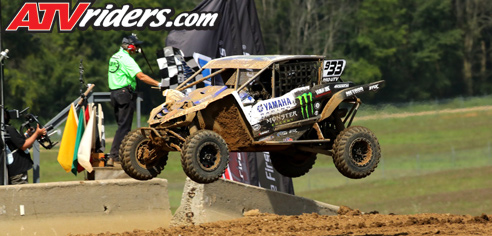 Yamaha's CJ Greaves made the pass on Jake Lunderby in the final lap to secure the win as he remains undefeated in 2017
"That was one heck of a battle," exclaimed Greaves. "Jake Lunderby was on the gas. I think if we look at lap times we're going to be splitting hairs. He had a couple of sections where he was faster than me and I just couldn't figure out how to get better. I had to take advantage of the sections I was faster. He got away after the caution and I had to do everything I could to get close. I knew if I kept the pressure on him, he hasn't led many laps; It's a new thing for him. We're just going to keep pushing and try to make this car a little bit faster."
Lunderby has trained with the Greaves family, even staying at their house on several occasions. He made a mistake on the last lap, but was still pleased with a hard run and a runner-up finish.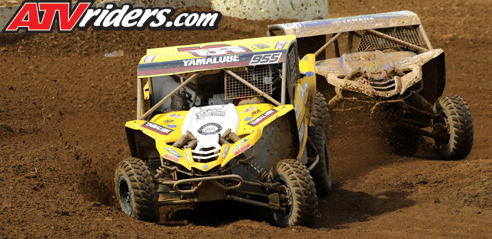 Yamahalube's Jake Lunderby made a mistake on the final lap, which dropped him out of the lead into the 2nd spot on the podium
"I started out front and had clean air, but I made one mistake," said Lunderby. "I got up on two wheels on the last lap, but I was able to get a second behind my teammate CJ. I knew if I made a mistake he was going to be right there on me. So I did everything I could not to make a mistake, but I guess I tried too hard. That was an adrenaline rush and it's hard to keep it together. I got third yesterday and second today, so we're just keeping up that consistency."
Enloe held off Martin for most of the race to score the third-place finish. The privateer racer scored his best career finish here.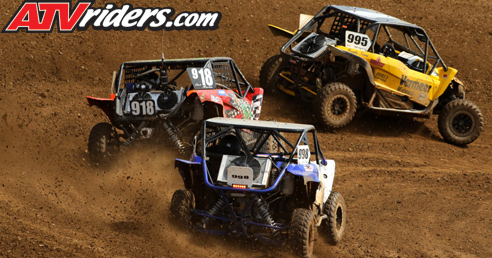 #995 Ben Enloe held off some stiff competition to secure the final spot on the podium, which was a season first for Enloe
"We're starting to get it figured out," said Enloe. "I stared in the mirror at Zach the whole time. He was coming hard. The track was new and no one knew it, so that made it a wildcard. This makes it all worth it."
In the Sportsman class, Vince Lamendola won the race. Points leader Jacob Rosales finished third.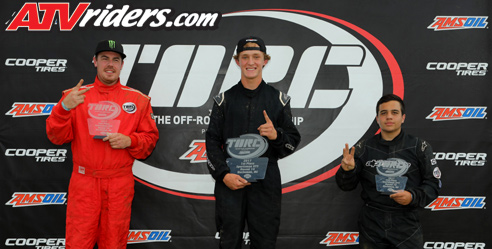 TORC Sportsman SxS / UTV Podium
There are just five races left on the TORC calendar. The series will hold a doubleheader weekend at the Crandon International Off-Road Raceway in Wisconsin September 1-2, followed a tripleheader at ERX Motor Park in Elk River, MN September 23-24.