NE EDT Racing - Round 5
Pine Lake
Ashtabula, Ohio
July 23-24 , 2016
NE EDT Racing Round 5 ATV Race Report
Brad Riley Wins Pro & Chuckie Creech Takes Pro-Am Win
2016 New East EDT Round 5
Pine Lake
Ashtabula, OH (8/2/2016) - The Noel Property Maintenance / Schaeffer Excavating New East Extreme Dirt Track series took it's 2016 season to new heights this past weekend as they traveled to Ashtabula, Ohio for round five of the series held at the famous Pine Lake Raceway and Trail facility. With three hundred and twenty plus entries, the Tru-Way Racing / Fischer Cycle's Round 5 weekend was quite literally packed full of racing action! Many of the classes were sanctioned into four separate heat races to accommodate the quantity of racers! In the Pro ranks, two familiar names duked it out for the top spot, which Brad Riley was able to claim, with Chuckie Creech in second place, and Aaron Medlin in third. The Pro-Am battle was intense as well and we saw Creech take home the win with Riley in second place, while Michael Houghton took home a third place finish.
NE-EDT Pro Class Podium (left to right)
Chuckie Creech (2nd), Brad Riley (1st), Aaron Medlin (3rd)
MAXXIS Tires / DASA / Houser Racing / O'neal's Brad Riley was a dominant force in the B&B Racing Engine's Pro class and quickly fell into his immense pace on the extremely rough course that Pine Lake had to offer.

Maxxis' #27 Brad Riley grabbed the Pro Main Holeshot
The track felt right at home for Riley, and as he took the holeshot, he took off like a rocket ship, quickly gaining momentum and a big lead on the rest of the Pro pack. Riley, however, was soon under attack from Chuckie Creech who was hot on his heels only a couple of laps into the contest. Around this same time, an accident between Steve Lagro and Justin Frindt stopped the race with a red flag event as Frindt was hurled from his quad and laid motionless on the ground. Luckily he was able to move around a bit and was responsive as he was taken by ambulance to the hospital. The racers encountered one more red-flag event only moments into the restarts when Doug Crossway suffered a mechanical failure which sent him tumbling as well and also had to leave in an ambulance. Once a new bus arrived at the track it was back to the racing action and after the third start of the race, Riley was rearing to go! Riley and Creech quickly got back out front to a sizable lead and battled back and forth over the rough terrain. Riley remained mistake free for the rest of the twenty-lap contest to bring home another Pro win for himself and add to his points lead with only two rounds of racing left!
#27 Brad Riley & #25 Chuckie Creech battle for the lead
"My DASA engine put down some amazing power to the MAXXIS tires and I got great traction off the line and was able to snag the holeshot! From there I started finding my groove and tried to build up a lead. Unfortunately, we saw a few racers take some spills and red flagged the race a couple times which shook things up a bit with the staggered restarts. I was able to get off to two more good holeshots on the restarts and stayed ahead of everyone. Chuckie really got on me a few times in the corners and ran a really clean race with me and I was able to take the win," said Riley.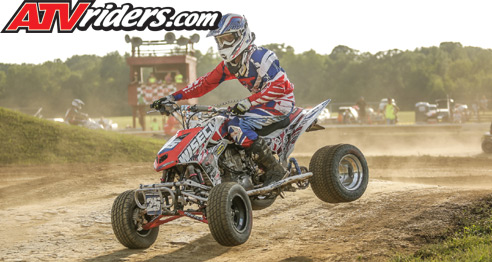 Chuckie Creech finished second in the NE-EDT Pro Class
Close Encounter Whitetail Outfitters / MAXXIS Tires / WISECO / JT Racing's Chuckie Creech had his work cut out for him as he battled insanely close to Riley for the holeshot title. Creech quickly turned on his speed however and set pace with Riley so as to make sure to not let him out of his grasp as the going got rough. Aside from the two red flags, there was never a moment where Creech wasn't relentless in his pursuit of Riley and the number one spot. Unfortunately for Creech, he was forced to settle for second place after several attempts at passing for the lead. Creech has a firm foothold in the Pro class points in second place after 5 rounds of racing are in the books and is looking forward to heading back to North Carolina for round six at Busco Beach.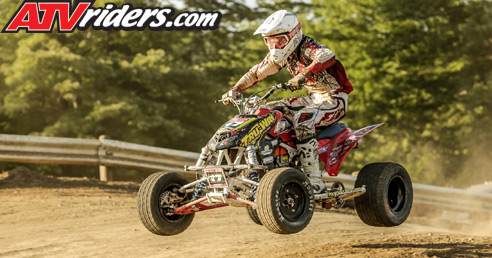 Aaron Medlin catches some air at Pine Lake on his way to third place in the Pro Class
Big Dawg Racing / B&B Racing Engines / Moose Racing / MAXXIS Tire's Aaron Medlin put in a ton of work during the Pro main event after coming out of the holeshot near the rear of the pack. Medlin quickly moved around several riders by the second lap and then started working his way up even more as the race progressed. Medlin found himself in the top ten when the first red flag came out, and in the same position after the second red flag. From this point forward, he knew he had fifteen laps remaining to improve his position and he was able to do just that. One by one, Medlin worked his way around each racer until he was within striking distance of the podium. One rider stood in his way, and that was Maul Tech ATV's Nathan Wolff. Wolff and Medlin battled for several laps, each one trying different lines, and eventually Medlin's tactics paid off and he was able to get around Wolff to claim his first Pro podium of the season, in third place.