NE EDT Racing
Round 4 - Pine Lake
Ashtabula, OH
July 18-19, 2015
NE EDT Racing Pine LakeATV Race Report
Brad Riley Wins NEEDT Racing Pro Class
2015 New East EDT
Round 4 - Pine Lake

Ashtabula, OH (7/24/2015) – Round four of the New East Extreme track series was held at the famous Pine Lake track and trails in Jefferson, Ohio this past weekend and it consisted of a two day event with heats being on Saturday and main events on Sunday.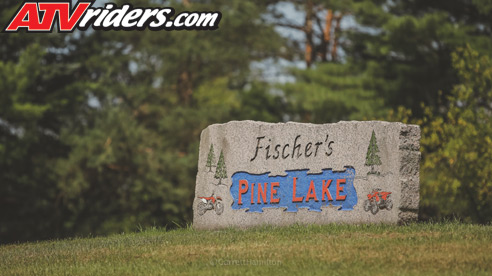 The New East Extreme Dirt Track Racing Series was held at Pine Lake in Ashtabula, OH
This event, unlike most all other flat track and TT events in recent years was a major event in terms of racer turnout, a number which far surpassed previous NE EDT events with three hundred and nineteen entries and two hundred and fourteen racers! Brad Riley, who missed the first double-header at Kinston, was on fire for his first race so far this year in the NE EDT and came out to dominate the field and put together back-to-back wins in the Pro and Pro-Am classes. Chuckie Creech and Michael Houghton rounded out the podiums in both classes in second and third place respectively.
NE EDT Racing Pro Podium (left to right)
Michael Houghton (3rd), Brad Riley (1st), Chuckie Creech (2nd)
The weekend was slated for rate for all three days Friday for practice, Saturday and Sunday, for at least some of the day however no such thing occurred and the track was as dry as a Texas tumbleweed. The track crew headed up by Bud Fischer did the best they could to take the dust by watering and sweeping the track but it was still heavily dusty resulting in a slick track with little to no blue groove for traction. The racers surely had their work cut out for them when it came time to select a tire for their main events.
DASA / PEP / Houser Racing / MAXXIS Tires's Brad Riley had the holeshot mojo cranking this weekend as he powered off the paved starting area at Pine Lake to take the Pro holeshot and won the Tru-Way Racing / Spartan Fabrication holeshot award of one hundred and fifty dollars! Riley was followed tightly by Creech and Houghton along with Aaron Medlin through the first corner as he clicked down several gears to power his way through the one-eighty and over the first or two big tabletop jumps on the course.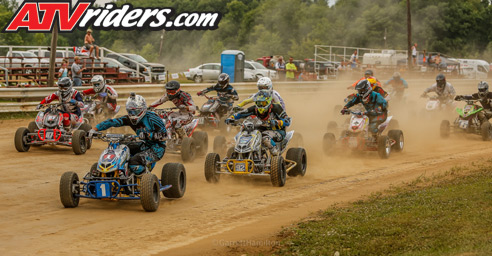 #1 Brad Riley grabbed the pro holeshot & the Tru-Way Racing / Spartan Fabrication holeshot award
Riley began to string together a few quick laps realizing his speed was unmatched on the course and as he finished lap after lap he saw his lead was mounting quickly. Knowing it was a long, hot, dusty twenty-lap main event, he kept his pace up while playing it smart to avoid any mishaps. Riley's strategy worked and allowed him to come away with the win, his first Pro win of the season in the NE EDT!
Brad Riley extended his lead with every passing lap to earn the win in the Pro Class
"I just let the bike do the work really. At least that's how it felt to me. My suspension setup with the PEP's and Housed components was on point and the DASA engine was pulling strong and got me out front early. Late in the race during Pro-Am earlier in the day the engine started having some fuel issues and we were able to figure that out and it ran perfect the entire twenty laps. It was a good clean race and we made it work out there and I'm happy with the outcome," said Riley.