NE EDT Racing
Round 1
Kinston, NC
April 24, 2015
NE EDT Racing ATV Race Report
Aaron Medlin Wins NEEDT Racing Pro ATV Class
2015 NE EDT Racing
Round One Links

Kinston, NC (5/8/2015) –The Earnhardt Racing New East Extreme Dirt Track series kicked off it's 2015 season at the Ironclad Motorsports facility which is part of the Kinston Fairgrounds for TRE / Maul Tech ATV round one. The series had been taken over in-part by Shawn Robinson of Doonan Racing last season as a partnership but with the 2015 season approach, Shawn is now spearheading the entire season and making sure all of the riders are happy, and well taken care of during the season by bringing on-board new sponsors, new race tracks and great class payouts.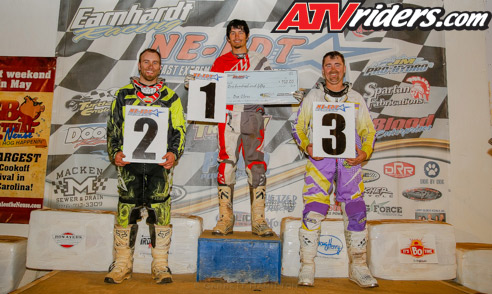 NE EDT Racing Pro ATV Podium (left to right)
Brian Ace (3rd), Aaron Medlin (1st), Chuckie Creech (2nd)
It was a mildly warm day with a fairly stiff breeze which kept the riders and fans nice and cool while the track was very dry and dusty but with a tight and blackened racing line, produced from night, and morning practice sessions. With the heats and mains getting underway, the track was coming into it's own and turning into a beautiful racecourse.
The Maul Tech ATV Pro class headed to the line and with fourteen racers, it was one of the largest fields seen in recent history, which meant it was for sure going to be a battle! There were also TRE Racing Holeshot awards up for grabs, that put a little extra incentive to grab that holeshot!
The Pro class engines roared and tore off the line into the first corner with Brian Ace #338 and Aaron Medlin #8 vying for the position to take the holeshot. It wound up being B&B Racing/Big Dawg Racing/Canup Trucking's Medlin to take the prize by-a-hair and won the holeshot. Merlin hammered down into the second turn and continued to apply throttle to command the lead heading into the first jump of the course heading out onto the front stretch. Medlin looked back only a few times to check his six as Ace applied some pressure, but to no avail, as Medlin knew he was the man to beat. He stayed on the throttle and outlasted all of the other riders to take the win!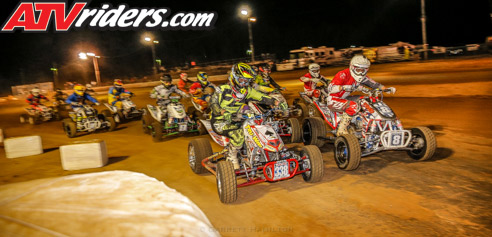 #8 Aaron Medlin grabbed the holeshot in the Pro Class
"When I was getting ready for that Pro main that night, I was sitting on the line thinking about the bad luck I was having and crashing out earlier in the day. I told my dad I need to redeem myself so as soon as that light turned green, the only thing I was thinking about was getting to the front. Then I pulled the holeshot and never looked back. I was super happy to get out front and I had a couple battled with Brian Ace, but I knew I just had to ride a solid 20 laps and I'd be good for the win. My B&B Racing / 75Designs TRX450R got right out to the front and was looking good, I'm really happy for this win," said Medlin.
Aaron Medlin earned the first win of the season in the NE EDT Pro Class
Try-Way Racing/PEP/RATH/Walsh's Brian Ace was a top contender for the holeshot of the Pro class and just barely missed it coming into the first turn at Kinston. Ace hammered down and quickly left the rest of the pack behind as he pursued Medlin out onto the tacky course. Soon he found himself and Medlin battling around each turn but then faded a bit after a slight mistake. Ace was able to catch back up after Medlin made a mistake as well but just ran short of laps to make a pass happen before the checkered flag flew, resulting in a solid second place for himself.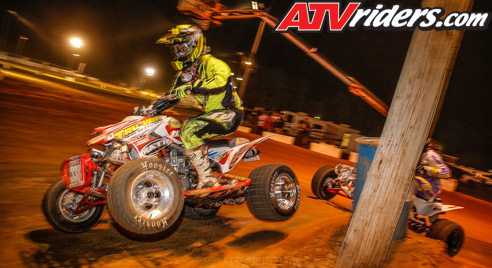 Brian Ace finished second in the NE EDT Pro Class
"My Hoosier tires hooked up great off the line and pulled me into second off the start where I shadowed Medlin waiting for him to slip up, I made a lil' mistake at bout half-way and he got a lil' gap on me. It stayed like that for a couple laps until he got a little sideways in the one hair-pin and I was able to close the gap back up. I knew Creech was back there also so it was pretty intense and hard to make any moves with the three of us so close. It stayed that way 'til the checker flew, Aaron was moving and ran a great race. I just have to thank all of my sponsors for another here with my program and I'm feeling really confident heading into the season," said Ace.