NE EDT Racing Series
Round 1 - Ironclad Motorsports
Kinston, NC
May 10, 2014
NEEDT Racing Race Report
::Continued::
Pro Rookie Blystone looked solid as he was able to hold off Pro veterans Houghton and Riley for a few laps until they both were able to slide around him and both riders moved closer towards the front of the pack.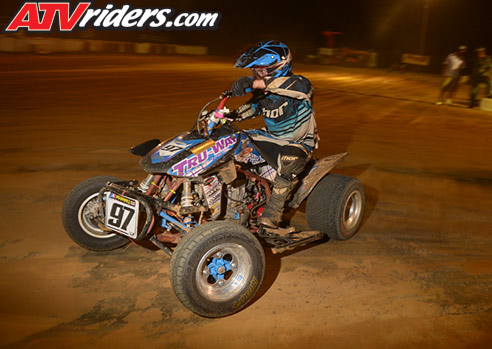 NE EDT Pro Class Rookie, Mike Blystone, started towards the front of the pack
About the mid-way point the ATV TT Pro Veterans were able to take advantage of a little mistake by another Pro rookie Evanyke as Creech moved his way to second place followed by Riley who continued to make his push though the field of riders. As the white flag came out, Riley had moved into second palace followed by Creech for your top three spots.
NEEDT Pro Class Rookie, Andrew Evanyke, finished 4th in the Pro class
Rummage held onto the win, followed by Riley, and Creech in the final spot on the podium. Evanyke finished fourth followed by 3x NE EDT champion Brian Ace, Michael Houghton, Mark Blystone. Charlie Calloway, Justin Frindt and Kristopher Bures rounding out the top 10.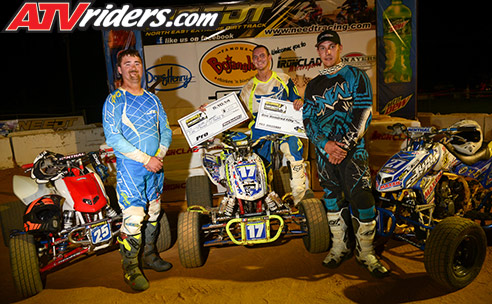 NE EDT Racing Pro Podium (left to right)
Chuckie Creech (3rd), Jordan Rummage (1st), Brad Riley (2nd)
Garrett Hamilton was on hand for the event taking photos. If interested in purchasing photos please contact him at ghamiltonphoto@gmail.com or you can find then right here on ATVRiders.com.
Rounds two and three of the HB Racing NE EDT series will take place at the legendary Pine Lake ATV TT park in Ashtabula, Ohio on June 7th and 8th.
For more information about the series please visit us at www.needtracing.com and join our Facebook page at www.facebook.com/North-East-Extreme-Dirt-Track-Racing. Stay tuned for some exciting events being added for rounds 2 and 3.