2015 GNCC Racing Series
Round #7 Mountaineer Run
Masontown, WV
May 23, 2015
GNCC SxS Racing - Round 7 - Race Report
::Continued::
Can-Am / JB Racing's Tim Farr has had his share of bad luck this season, but he was able to make a solid comeback for this round and claimed the final spot on the XC1 podium. Farr started on the third row and soon caught up to the second row and kept moving forward. "I was on the third row and third going into the woods. From there I started working forward and caught up to the second row. There were a lot of lappers, but I still moved forward and was able to finish on the podium. We didn't have any issues, and we were able to keep it between the trees and just run a good clean race. It was awesome to be back on the podium. I just wish I could have done it sooner," said Farr.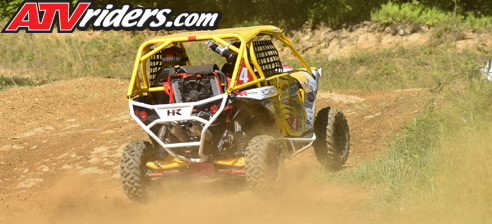 JB Racing's #4 Tim Farr scored his first podium finish of 2015 with a third place finish at the Mountaineer Run GNCC
Racer Tech's Mouse Pratt had a good race, and earned his best finish of the season so far in the number four spot. Pratt was in mid-pack at the number 13th spot in the first lap and charged his way through the rocks and lap traffic. Pratt made good time and moved into fourth on the white flag lap and held it all the way to the checkered flag.
Racer Tech's Mouse Pratt claimed a fourth place finish
Tennessee racer, John Barnes, stepped up to the Pro class for this round after spending the last two rounds in the Amateur modified class. Barnes started out on the third row and kept the momentum going and rounded out the top five at the checkered flag.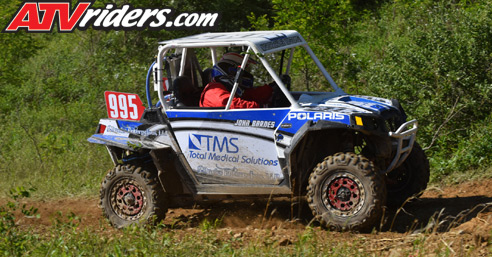 #995 John Barnes rounded out the top five in the XC1 Pro class, which was an impressive accomplish for his first Pro race
Racer Tech's William Yokley finally caught a break after two DNF's to start the season and ended his day in the number six spot. "I was on the sixth row on the start and I had a lot of traffic to work through. It was rocky and rough, but we made it through and finished. Now I am looking forward to the rest of the season," said Yokley.
Coastal Racing's #5 William Yokley
Coastal Racing's Scott Kiger had worked his way up to fourth place at the mid-way point of the race, but he ended up hitting a rock and rolling, leaving him with a seventh place finish.
CST Tire's #5 Scott Kiger
Bill Patterson claimed an eighth place finish in his hometown race, while Marcus Pratt claimed ninth and Jamie McCoy rounded out the top ten in the GNCC SXS Pro XC1 class.