ATV MX Championship
Red Bud MX
Buchanan, Michigan
July 29-30, 2017
Red Bud Amateur ATV Motocross Report
::Continued::
In the WMX class, Andrea Berger took her second overall win of the season with very impressive 1-1 moto finishes. Berger was strong and smooth in the rough Red Bud sand, and laid down the fastest lap times of the class in both motos.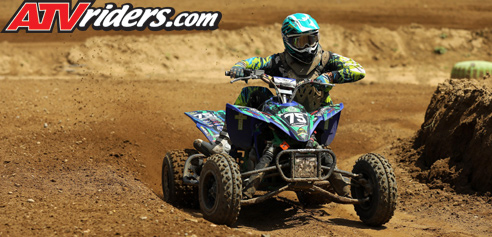 #75 Andrea Berger scored both moto wins for her second overall win of the season in the WMX class
Kierstin Keane put in a smart ride for second place overall which gave her enough points to officially claim the National Championship title.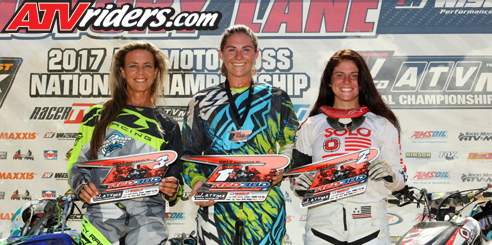 Pro-Am ATV Motocross Podium (left to right)
Michelle Jenkins (3rd), Andrea Berger (1st), Kierstin Keane (2nd)

"After a long hard season we are leaving Red Bud with not only a schoolgirl national championship that was locked up in NY, but also the WMX championship that we got done here this weekend. This is where all the countless hours and days away from home spent training are all worth it," stated Keane.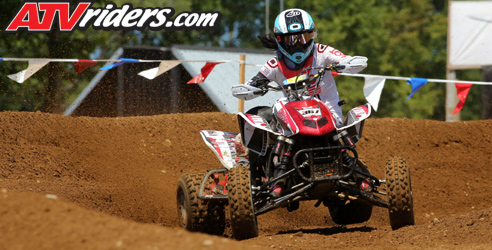 #367 Kiersten Keane secured the WMX Championship
Michelle Jenkins finished up the WMX top three in third place overall. Jenkins was consistent and smooth with two third place moto finishes.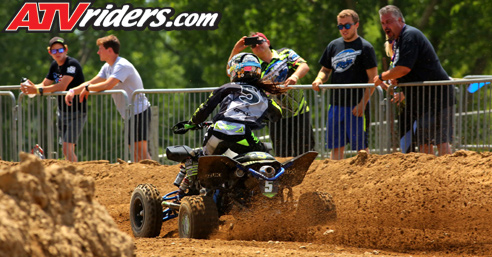 #5 Michelle Jenkins
Brogan Guyer took the overall win and National Championship title in the 450 B and Production B class.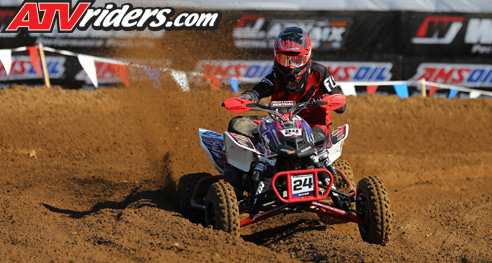 #24 Brogan Guyer claimed four Moto Wins on the weekend to secure overall wins in both Produciton B & 450 B at Red Bud
"The past week has been crazy, but we put our heads down and did out thing. I am happy to say I locked up both the 450 B and Production B championships for 2017," said Guyer.
JB Racing's Brogan Guyer wrapped up both Production B & 450 B Class Championships
Second place overall in 450 B went to Root River Racing's Logan Tremellen. "Me and Brogan got off 1-2 in the holeshot and stayed there. We just rode away from most of the pack. He had a great lead, I just tried to minimize mistakes on this rough Red Bud track and have some fun out there," stated Tremellen.
Root River Racing's Logan Tremellen secured 2nd Overall
Third place overall went to Gabe Dommer out of Seymour, WI. Dommer took a heat race win and backed it up with a strong fourth place moto two finish.
Chance Nekola dominated the Open C class with a heat race and moto two win for first place overall.
Larry Kindrick came in second place with a second place heat race finish and second place moto two finish. Kindrick battled with Nekola during moto two and managed to lead the first lap.
Quentin Ayres rode his Yamaha to third place overall with 4-3 finishes to round out the podium.
The 2017 AMA ATV Motocross National Championship will finish out with the final round of the season at Loretta Lynn's Ranch in Hurricane Mills, TN on August 12-13.