Logandale, Nevada ATV & SxS / UTV Trail System
Logandale Trail System Open to ATV & SxS / UTVs in the Moapa Valley
Logandale Trail System ATV &
SxS / UTV Links
Logandale, NV - Located just over 60 miles from Las Vegas, Nevada and 70 miles from Sand Hallow OHV Area in St. George, Utah is the Logandale OHV Trails System. The Logandale Trail system consists of over 200 miles of trails that is known for its various terrain and beautiful scenery.
ATVRiders.com recently had the opportunity to ride with WORCS Pro ATV Racer Josh Frederick and FOX's shocks Jeff Gruhlke at the Logandale ATV & SxS Trail System piloting a Motoworks / Can-Am Commander 1000 SxS / UTV. Josh Frederick also brought along his Can-Am DS450 ATV and a Can-Am Renegade Sport Utility ATV to ride. The Logandale OHV trails features some of the most diverse terrain in the United States with many elevation changes.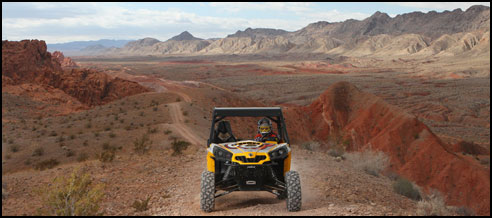 The Logandale Trail System offers over 200 miles of breath taking terrain & trails open to ATV & SxS / UTVs in Southern Nevada
The Logandale Trail System is located in the Moapa Valley and borders the Valley of Fire State Park. As you may have guessed the Valley of Fire State Park gets its name from the bright red rock formations. The same fiery red rocks and other stunning landscapes can be found on the Logandale ATV & SxS / UTV Trails.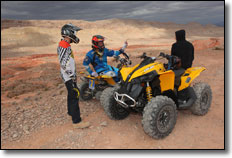 Past WORCS Pro ATV Champion Josh Frederick acted as our tour guide at the Logandale Trail System
Located only a couple miles from Motoworks / DWT's Josh Frederick hometown of Moapa, Nevada, Frederick grew up riding at the Logandale Trails and would be our guide to explore the Logandale Trails. Although we didn't get to see all that the Logandale Trails had to offer, we got to a few hours exploring the area and to experience a nice mix of the diverse terrain and breath taking scenery as we had a flight to catch later that day.

The Logandale Trails are open to a variety of recreation opportunity's including horseback riding, hiking, rock climbing, camping, Jeeps, and of course ATV & SxS riding. The trails at Logandale can range from easy to difficult which provides trails for all skill levels.
FOX's Jeff Gruhlke came out to ride with Josh Frederick & ATVriders.com at Logandale Trail System & rode on a Can-Am Renegade ATV