Alexandria, IN
- In Part three of our Kawsaki Teryx 750 4x4 UTV / SxS build we add a little horsepower to the side-by-side and get a better sound out of our machine.
To do this, we chose to go with the Motoworks SR4 Utility 2 full exhaust system. This system not only added additional power to our UTV but it also shaved off a pound or two of overall weight. The Motoworks SR4 Utility Exhaust is constructed with lightweight yet durable Aluminum design.
The Motoworks SR4 Utility 2 exhaust brings the Teryx to life with an awesome thoughty sound. Although the exhaust is louder than stock it still isn't loud enough to wake your neighbors, which is a good thing! Motoworks offers the SR4 Utility 2 exhaust in both full and slip on models. It is available for almost all UTV models including the Can-Am Commander, Polaris RZR 800 , Polaris RZR XP 900, Yamaha Rhino, and of course the Kawasaki Teryx 750.
The Motoworks SR4 exhaust is constructed of Lightweight 6063 T4 Aluminum & stainless steel that delivers more power from bottem end & throughout the RPM range
Motoworks also offers the SR4 exhaust in race duals for those who want to best power and sound on or off the track.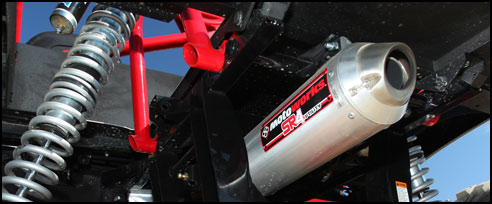 The Kasawaski Teryx 750 4x4 SxS / UTV Motoworks SR4 exhaust can be installed in less than an hour without any drilling or modifications
Installation of the Motoworks SR4 exhaust was fairly simple. Motoworks provides detailed instructions with photos with each exhaust system to ensure an easy installation.
The stock exhaust can be removed by tilting the bed & loosening the two clamps holding the head pipe to the exhaust & by removing the bolts holding on the exhaust
First thing you want to do when installing the exhaust is make sure your UTV / SxS and work area is clean. This is essential for any type of maintenance.
To gain access to the exhaust, tilt the bed and loosen the two clamps holding on the stock exhaust to the stock head pipe. After loosening the two clamps tilt the bed back down and loosen the two bolts holding on the stock exhaust to the underside of the bed. Next, tilt the bed back again to remove the bolts and remove the stock exhaust.
To remove the header pipe we suggest using a jack and jack stands to get underneath the UTV. In our case, we just so happened to have access to a car lift which made it very easy to literally stand under the UTV when working on it.
::CONTINUED::