2011 WORCS ATV Racing
Round #8 - Racetown 395
October 23, 2011

WORCS Racing - Round 8 - Racetown 395 - Pro ATV Race Report
::Continued::
Yamaha's Dustin Nelson was unfortunately feeling a bit under the weather for this round, but still managed to pull off a top five finish. Nelson was hoping things would get batter as he hit the track, but they only seemed to get worse when he encountered a mechanical issue early in the race that would hold him back for the entire hour and a half. Nelson was able to muster a charge in the final two laps and was able to make the pass on Dillon Zimmerman to take over the fourth spot
Yamaha's #94 Dustin Nelson got off to a slow start as he was experiencing a rare mechanical issue with his YFZ450 smoking for most of the race, but Nelson didn't let it slow him down as the charged through it to claim an impressive 4th place finish
Can-Am/Motoworks' Dillon Zimmerman ran a very consistent race this weekend. Zimmerman was in the top ten off the start and was able to make his way to the number four spot at the midway point. Zimmerman held his position for several laps before Dustin Nelson began to pressure him. Zimmerman held him off for quite some time but Nelson was able to get by, leaving Zimmerman to settle for a fifth place finish.
| | |
| --- | --- |
| | |
| DWT's #49 Dillon Zimmerman scored himself a Top 5 finish at Racetown 395 | Privateer, #8 Robbie Mitchell grabbed the early lead & finished in the 6th spot |
Robbie Mitchell was looking incredibly strong in the first couple of laps. Mitchell was second off the start behind Beau Baron and was able to make the pass for the lead in the second turn. Mitchell held his lead for two laps before Baron was finally able to get by. Mitchell would eventually fall back to sixth place at the midway point and settle in for a sixth place finish.

MCR/Maxxis Tire's Mike Cafro made his way up from the back of the pack to take home a seventh place finish, while Justin Waters rode a solid race to finish in eighth. Kyle Grosse ended his day in ninth place, while Tim Shelman would round out the top ten.

MCR Maxxis Tire's David Haagsma was looking good in the top five until stalling out in the QuadX section of the course. From there things just went downhill for Haagsma who would encounter a mechanical issue and not be able to finish the race.

In the Pro-am race, Garrin Fuller claimed another win, followed by Chase Thomas in second and Keith Johnson in third.

The Class One Side-by-Side races offered up plenty of action as well, as Beau Baron grabbed the holeshot and was holding down a solid lead. Baron looked as if he would cruise to an easy finish, but lap traffic once again got in his way and when Baron went for the pass on a lapper, the lapper cut in towards Baron at the last minute, sending Baron off the course and into a Joshua Tree at about 50mph. the impact sheared the driver's side suspension right off the RZR and ended his day early. Baron's misfortune, however, allowed DJ Noerr to take the Class one win, followed by Phillip Martin in second and Ryan Piplic in third.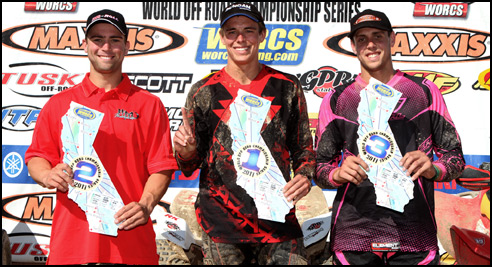 WORCS Pro-Am ATV Racing Podium (left to right)
Chase Thomas (2nd) , Garrin Fuller (1st) , Keith Johnson (3rd)
The final round of the 2011 WORCS series will head to Speedworld in Surprise, AZ on November 11th – 13th where the Pro championship will come down to the wire as Josh Frederick and Jeremie Warnia battle to break the points tie between them and take home a championship.