2011 WORCS ATV Racing
Round #8 - Racetown 395
October 23, 2011

WORCS Racing - Round 8 - Racetown 395 - Pro ATV Race Report
::Continued::

Maxxis' #549 Beau Baron grabbed the Pro ATV Holeshot by edging out #8 Robbie Mitchell by inches, but Baron would quickly drop back to the 2nd spot before regaining the lead again in lap two

Elka's #549 Beau Baron held the lead in the final lap, but a mistake half way through the lap aloud #1 Josh Frederick to make the pass for the lead with Baron finishing out the race in the 2nd spot

MCR Maxxis Tire's Beau Baron was looking incredibly fast and smooth. Baron flew off the line and grabbed the holeshot with Robbie Mitchell right on his tail. Mitchell was able to make the pass on Baron in the second turn of the first lap, but Baron wasn't about to let him hold the lead and just before the end of the second lap, Baron took back the lead and began to pull away. Baron recorded the fastest lap time of the race in lap three with a time of 09:21.429, which was over five seconds faster than anyone else. Baron's amazing speed had him pulling a good lead; Baron had to stop for fuel and dropped back to third. Baron was able to retake the lead when Josh Frederick and Jeremie Warnia later stopped to pit. Baron was looking smooth and it appeared he might take the win but lap traffic came into play and slowed Baron's efforts and ultimately allowed Josh Frederick to close in and take over the lead, leaving Baron to settle for second.
Motoworks' #62 Jeremie Warnia attempted to make the pass on #8 Robbie Mitchell in the WORCS X section, but his plan back-fired when he lost control & was tossed off the side of his quad, but amazingly, Warnia was able to stay on the gas & only lost a couple of positions before fully remounting his DS450
Can-Am/Motoworks' Jeremie Warnia was having a good race as well. Warnia came off the start in the top five and was holding a close third behind Baron early in the race, but Warnia ended up having issues in the WORCS X section of the track and fell back. Warnia charged hard and caught back up to Baron and briefly inherited the lead when Baron stopped to pit, but fell back again late in the race when he began to tire. Warnia would hang on for a third place finish.

Can-Am / Motoworks' #62 Jeremie Warnia charged his way into the lead after #549 Beau Baron pitted for fuel, but Warnia's lead would end when he made a pit stop a few laps later & Warnia would go on to finish in third place

"I have been dealing with my injuries from Washougal still, but I went out there and gave it everything I had and tried to do my best. I really want to win the last race of the year and take a championship," said Warnia.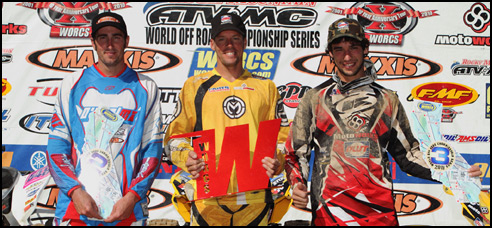 WORCS Pro ATV Racing Podium (left to right)
Beau Baron (2nd) , Josh Frederick (1st) , Jeremie Warnia (3rd)