WORCS ATV Series
Round #7 - Glen Helen MX
September 27, 2009
Glen Helen WORCS Pro ATV Race Report
Beau Baron Extends Points Lead & Jeremie Warnia Wins
---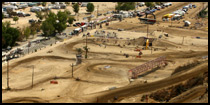 Glen Helen Raceway was host to Round 7 of the 2009 WORCS Series

San Bernardino, CA - The intense heat of the southern California desert led to the demise of many a machine at round seven of the 2009 WORCS series, but Can-Am Motoworks' Jeremie Warnia managed to pull off the Pro ATV win, while his teammate Dillon Zimmerman wrapped up the 2009 Pro-am Championship with his podium finish.

Glen Helen was the hosting facility for this round, which is notorious for its rough track conditions and horsepower robbing sand but that didn't stop Jeremie Warnia from making a hard charge for the Pro win.
Yamaha's Dustin Nelson grabbed the ATVriders.com Holeshot Award by outrunning Motoworks / Can-Am's Jeremie Warnia & John Natalie Jr
Can-Am Motoworks' Warnia was second off the line behind Yamaha's Dustin Nelson, but Warnia made his move shortly into the first lap and took over the lead. Once he was in front, Warnia began to pull away and led from start to finish. Warnia's win now has him in third place in the points race, only one point behind teammate Josh Frederick. "It was a rough race. It was really hot and the track was very rough. I just tried to stay focused and keep my lead," said Warnia.
Motoworks / Can-Am's Jeremie Warnia charged his way into the lead by the end of the 1st lap where he stayed for the rest of the race to claim his second win of the season, but once he crossed the finish line, Warnia surrendered himself to the water hose for some relief from the 100+ degree heat
MCR's Beau Baron secured his 6th Podium finish of the year, which extended his points lead to 21 points over 2X Defending Champion, Josh Frederick

MCR's Beau Baron was in fifth place off the start and held his position for two laps before making a charge through traffic. "It was really dusty, and all the guys in second through like seventh place were really bunched up so I was taking my time and trying to ride smart before going for the front," said Baron, who made his way into second by the sixth lap. "Once I got into second, I started to gain some ground on Warnia, but he had a good lead and I didn't have enough time to try and catch him," Baron stated.

The number 3 Honda rider is now in a 21 point lead and only needs to finish in the top ten at the final round to take his first WORCS Pro Championship. "I plan to ride smart at the last round. I want to go out there and finish the race and win the championship!" said Baron.