GBC Heartland Challenge 4 Hour SxS Race Report
Team Jack's Can-am team Wins GBC Heartland Challenge
GBC Heartland Challenge Links
Carlisle, IA (8/22/2014) - There were many new faces at the 2014 7th Annual GBC Heartland Challenge in the SxS classes. It was the veteran racers of the Jack's Can-Am team (Mouse and Marcus Pratt) that claimed victory and topped the Open SxS and the overall podium.
Heartland Challenge Open UTV Class Podium (left to right)
Cabana Motorsports (2nd), Jack's Can-Am (1st), Bjorkman Motorsports (3rd)

GBC Motorsports returned as the title sponsor for 2014 and helped put on a great event that saw an increased attendance in all classes.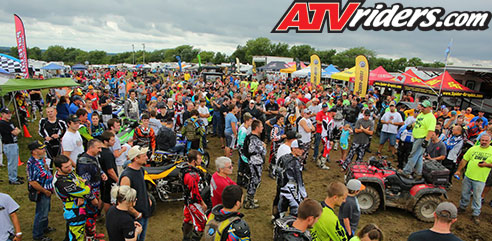 Attendance was up once again this year as the Heartland Challenge continue to grow especially in the SxS Classes. This year, there were 55 SxS Teams entered the 4 hour Heartland Challenge Endurance Race compared to 36 in 2013
"Attendance was way up this year for both the ATV's and SxS's; it was really good. It's a unique event that draws families and people from all over the country. It's not cross country and it's not motocross, it is just very different from any other events out there," stated event promoter, Andy Kyner.
Weather conditions were a little wet for the SxS classes, but most agreed it was better than dealing with dust. The rain actually helped make the track nice and tacky and give good traction. The course did end up getting a bit rough over the course of the four hours, but that only added to the excitement of the race.
Also new for 2014 was the RacerTech challenge section, which was a completely new challenge section for the SxS racers.  The new challenge had a mixture of tires, pot holes, logs, and humps to challenge the SxS racers.  It wasn't too extreme, so most of the racers opted to do the challenge, and it saved them a substantial amount of time over the bypass route.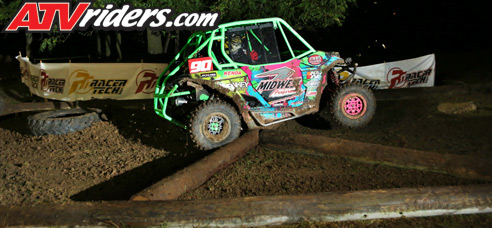 RacerTech sponsored a new challenge section for the Heartland Challenge SxS Racers. The RacerTech Challenge Section featured tractor tires, logs, and other obstacles. Although the section was quite technical, racers could save off some time by traversing this part of the course
While many teams did exceptionally well, the Jack's Can-Am team came away with the Open UTV and the overall win. The team completed 18 laps in a time of 03:58:43.859, which was three minutes ahead of their closest competition.
Team Jack's Can-Am makes their way over the RacerTech Challenge Section
"We had a bit of a hiccup at the beginning. Our holeshot wasn't too great and then we took a wrong line and ended up going back. From there we just started picking people off one by one and took our time getting out front. There was some tough competition, so we just had to be smart and pick good lines," said co-pilot Marcus Pratt..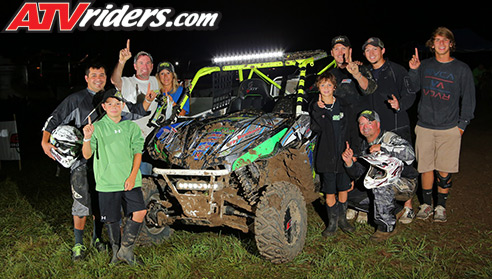 Team Jack's Can-Am celebrates their 2014 Heartland Challenge 4 Hour SxS Endurance Race Win with their pit crew & family
"It started nice and smooth out there, but it got rough at the end. Our ITP tires and JRi Suspension worked so well out there. It was an awesome race we had a really good time. This was my second year out here, and I love it. The comradery and the people out here is what keeps us coming back," added Mouse Pratt, who drove the entire four hours for the win.