GBC Heartland Challenge 10 Endurance ATV Race Report
Team Yamaha / Ballance Racing Wins ATV Pro Class followed by Team Woodhead
---
GBC Heartland Challenge Links

Carlisle, IA – The 2011 GBC Heartland Challenge proved to be one of the best in the event's history with plenty of action and excitement that saw the Yamaha / Ballance Racing team take top honors in the Pro ATV class, while UXC Racing dominated the Pro Utility class, but one of the most inspiring wins was in the Ironman class where 52 year old Forrest Whorton beat out competitors half his age for the Ironman win.

Many ATV Race Teams tried there hand at the Milwaukee Pit Stop challenge that prepared them for the 10 Hour Endurance Race the next day

The festivities kicked off on Friday with the Milwaukee Challenge that is always entertaining for both participants and spectators alike. The UTV races also took place on Friday with a four hour challenge that saw Team Elia beat out Yokely Racing for the overall win.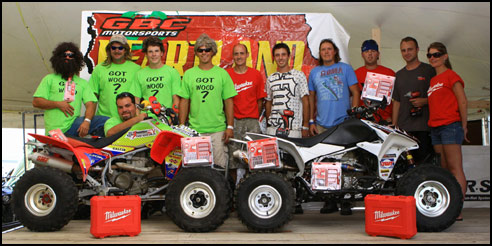 The Milwaukee Pit Stop Challenge on Friday afternoon drew in quite a few contenders to win a free set of Milwaukee tools
While storms had moved through the area the week prior, weather conditions for the weekend's events was ideal with sunny skies and warm temps. The track conditions were optimal with no mud and very little dust despite the warm and dry weather. "The week before the event had us a little concerned because we had some pretty intense storms roll through and dump a lot of rain on the track, but everything dried out well and we were able to prep the track and get it ready in plenty of time," stated promoter, Andy Kyner.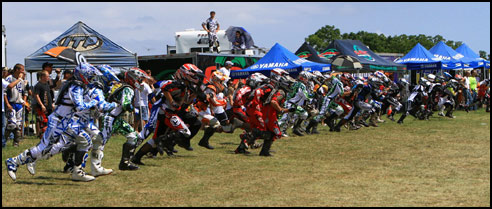 The Heartland Challenge 10 Hour ATV Endurance race features a Le Mans style start where the riders have to run to their ATVs to start them up
The seven mile course featured a woods section, some wide open areas, a lot of hills and the Safers Challenge section that was a short cut, but tougher to negotiate than the by-pass. There was also a mini challenge section that racers could opt for if they wanted to shave a little time off of their laps without subjecting their machines to the rough conditions of the full challenge section.