GBC Heartland Challenge 3 Hour Youth Endurance Race Report
::Continued::
On Saturday morning the Youth ATV classes would begin their three hour race. The kids were treated just like the big bikes once again with a Lemans style start that many of them seemed to really enjoy.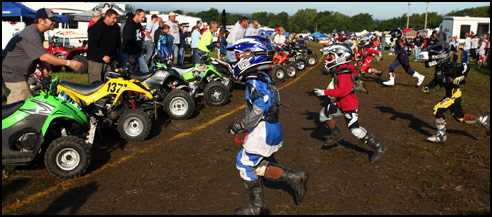 The youth ATV racers were also treated to a LeMans Style with the Dads waiting to help them get tethered up to their ATVs for the start of the 4 hour race
The kids classes were run on a shortened course but were every bit as exciting to watch as the adults would be later in the day.
The #952 Banded Gangster (above left) held the overall lead for nearly the 1st half of the race before the #900 GT Thunder Team (above right) began applying the pressure & eventually made the pass for the lead with the pair swapping the lead a few times before Blake Chirdon took the checkered flag waved by GBC President, Randy, for the Overall Win & 90 Production Class Win
The kids were all smiles as the crossed the finish line with the GT Thunder team taking the win in the 90 Production class and the overall. The Banded Gangsters followed them in second, and the High Energy Boys would take third in the 90 Production class.
#701 White Lightning Jr's claimed the easy 70 Production win when the #700 Kyner Team experienced issues in the first lap, which sent them a lap down, but with the Kyner team making up time with each lap, the White Lightning Jr's kept their heads down as they charged their way to a 7th overall finish
In the 90 Stock class, the win would go to the Blue Ridge Bad Boys, with the FD Elmo Team on second and the Wildcats would claim the final spot on the podium. White Lightning Jr.'s would take the win in the 70 Production class and the Buckskinner Boys would take the win in the 50 Production class.
| | |
| --- | --- |
| | |
| #952 Blue Ridge Bad Boys claimed the 90 Stock Class Win | #500 Buckskinner Boys claimed the 50 Stock Class win |
To be Continued with the 10 Hour ATV Race Report