FLY ATV Supercross
Daytona International Speedway
Daytona, Florida
March 10, 2015

2015 Daytona ATV SX Race Report
2015 Daytona ATV Supercross
2015 ATV SX Racing
Daytona Speedway - Links
Daytona, FL (3/18/2015) – Casey Martin claimed the top spot on the Pro-am podium of the inaugural Daytona ATV Supercross while Sam Rowe earned the Pro Sport win and Megan Manshack took top honors in the Women's class.

The Daytona ATV SX track was tamed down from the track for the motorcycles, but it was still fairly technical with plenty of challenging rhythm sections and some big air jumps. Also, the sandy soil broke down quickly and became very rough, but the amateur classes handled it well, and there were some great battles at the Daytona ATV Supercross
2015 Daytona ATV Supercross Track
In the Pro-am class, Casey Martin was on the gas in his heat race as he came from a mid-pack start and claimed a fourth place finish. In the Pro-am main, Martin was in second when the gate dropped and was right on the leader, Blake Granger. Martin stayed close and applied the pressure. Martin's efforts paid off and he took the lead in the third lap after recording the fastest lap time of the race in lap two with a time of 01:02.223. Martin increased his lead with every lap and clinched the Pro-am win.
#75 Casey Martin claimed the Pro-Am Daytona ATV SX Win
Wes Lewis, out of Aliquippa, PA, was in fourth off the start and charged his way through traffic. Lewis picked off the competition until he reached the number two spot. From there, Lewis began to close the gap on Casey Martin, but ran out of time before he could get close enough to make a move and finished second in the Pro-am class.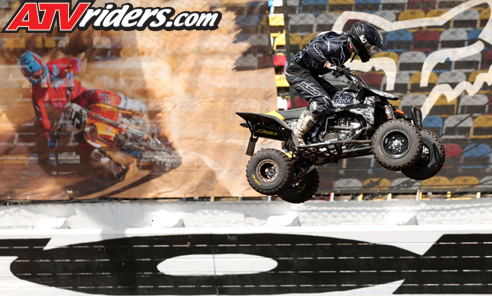 #79 Wes Lewis
Florida native, Pablo Vera made an impressive charge after a mid-pack start that left him in seventh place in the first lap. Passing was difficult on the rough course, but Vera put his head down and began picking off the competition one by one. When the white flag was waved, Vera was in position to make a move for third place. Vera applied the pressure and made a successful pass to finish in third.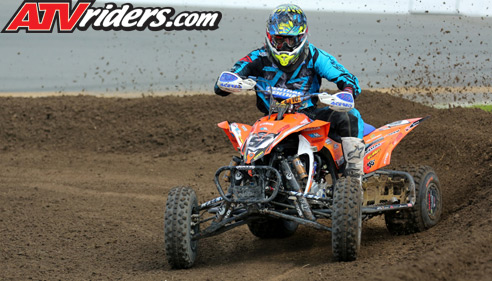 #57 Pablo Vera
Ed Edmondson, who claimed sixth in his heat race, was in the top five off the start and worked into the number four spot before reaching the checkered flag.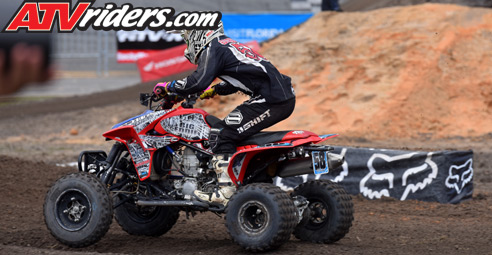 #58 Ed Edmondson