FLY ATV Supercross
Daytona International Speedway
Daytona, Florida
March 10, 2015

Baldwin's John Natalie Jr Wins Daytona ATV SX
2015 Daytona ATV Supercross Pro Race Report
2015 ATV SX Racing
Daytona Speedway - Links
Daytona, FL (3/10/2015) – Baldwin Motorsports' John Natalie Jr made history in Daytona as the first-ever, Fly Racing ATV Supercross Pro Championship with JB Racing's Joel Hetrick finishing in a close second and Yamaha's Chad Wienen rounding out the Pro ATV podium.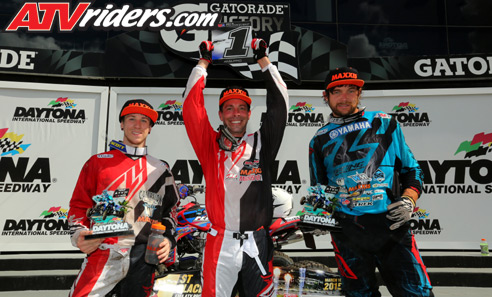 FLY ATV SX Pro Podium (left to right)
Joel Hetrick (2nd), John Natalie Jr (1st), Chad Wienen (3rd)
Racers came out of the wood work for the inaugural Daytona ATV Supercross with names like Kory Ellis and Daryl Rath included in the list of racers who do not regularly participate in motocross events. Former ATV MX Pro Champion, Josh Creamer was also on hand for this event, but instead of racing, Creamer was behind the microphone helping Rodney Tomblin with announcing duties and conducting interviews. "I think I may have announced my retirement a little too early. I would really love to be out there racing, but I am actually just very stoked to be able to be a part of this event. I hope that this is the first in what becomes a regular part of ATV racing," said Creamer.
Former Pro ATV Motocross Champion, Josh Creamer, was working the microphone at the Daytona ATV Supercross
While the Daytona ATV Supercross is the start of the 2015 AMA ATV Motocross Championships, it is also a stand-alone championship and winners were awarded with a special #1 plate just for this event and a unique surf board plaque for the Pro winner.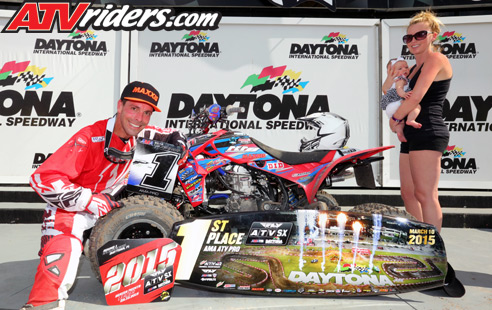 John Natalie cleaned house at the Daytona ATV SX by claiming the SSi Holeshot Award, Historic Win Trophy & Red Plate for Georgia
The course was tamed a bit from the bike Supercross event over the weekend, but it was still a true supercross style track with rhythm sections, and some big air jumps. Jeffrey Rastrelli was up to the challenge as he claimed fastest lap time in qualifiers, but it was John Natalie Jr and Joel Hetrick who took the heat race wins and got first gate picks.
Jeffrey Rastrelli scored a point in the ATVriders.com Fastest Qualifier Award