Pro Challenge Motocross
in Memory of Caleb Moore
Oak Hill MX
October 10, 2015

Cody Taylor Takes 3rd Straight UTV Pro Challenge Win
Justin McCoy & Shawn Hess Round Out UTV Podium
2015 ATV Pro Challenge MX
in Memory of Caleb Moore
Decatur, TX (10/13/2015) – S3 Racing's Cody Taylor is used to powering his Polaris RZR through the woods in cross country competition. He proved yet again he is a force in motocross, as well at Oak Hill Raceway when he won his third straight UTV Open limited title at the Pro Challenge in Memory of Caleb Moore. Justin McCoy finished a close second, followed by Shawn Hess. Cross and Curtis Kirchmeier completed the top five.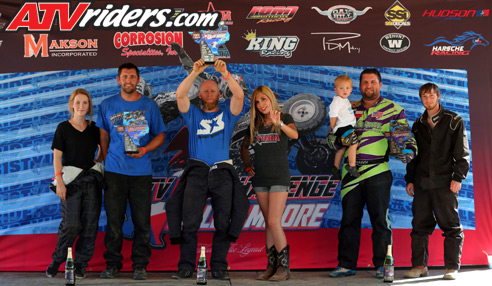 2015 Pro Challenge SxS / UTV Podium (left to right)
Justin McCoy (2nd), Cody Taylor (1st), Shawn Hess (3rd)
Taylor proved "31 Style" was the motto of the weekend as he notched his third consecutive first-place finish. He grabbed the holeshot at the start and checked out from the field. Caleb Moore's number was 31.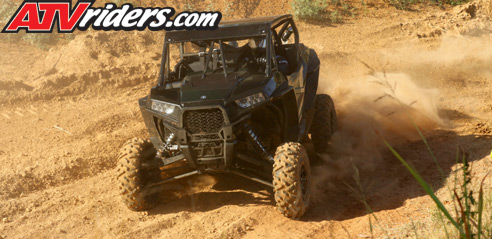 Cody Taylor grabbed the holeshot once again & quickly built a commanding lead over the competition in the short 7 lap long race
"I've been waiting on this race all year," said Taylor. "We had a good qualifying run and got a good gate pick. We took the holeshot and led the whole race. There were a lot of guys out there flipping end over end, which gave guys a chance to catch up. I played it safe and ran the whole race like I was out there by myself. I hope this event continues next year because I will be back."
Taylor regularly competes in cross country UTV competition. He enjoyed running the shorter motocross course in the seven-lap race.
S3 Racing's Cody Taylor went on to claim his third straight Pro Challenge UTV win
"This short course is fun for us," said Taylor. "It takes all of the guesswork out of picking lines and I can concentrate on driving. Traction isn't a problem because the track is tacky and prepped and I like the jumps, too. I love jumping my RZR. These cars are great on this soggy short course. The main thing is the track was prepped well. The guys put in a lot of work, watering and grooming the track."
McCoy hooked onto Taylor's rear bumper at the start and was never seriously challenged in taking the runner-up slot. "This is awesome," said McCoy. "We had a lot of fun this weekend. I came out second and I just kept pushing. I never looked back and I just went."
Justin McCoy claimed the 2nd spot on the podium in the UTV Open class
::CONTINUED::