ATV Pro Challenge Motocross
in Memory of Caleb Moore
Oak Hill MX
October 10, 2015

Thomas Brown Takes ATV Pro Challenge Motocross Win
John Natalie Jr & Jeffrey Rastrelli Round Out Pro ATV MX Podium
2015 ATV Pro Challenge MX
in Memory of Caleb Moore
Decatur, TX (10/11/2015) – Thomas Brown likes to say that Caleb Moore watches over all ATV motocross racers as they take to the track. That statement held true Saturday as Brown won the Third Annual ATV Pro Challenge in Memory of Caleb Moore at Oak Hill Raceway. John Natalie, Jr. was second, ahead of Jeffrey Rastrelli. Pro Motocross Rookie of the Year Nick Gennusa finished fourth, while Sam Rowe made his pro debut with a fifth-place finish.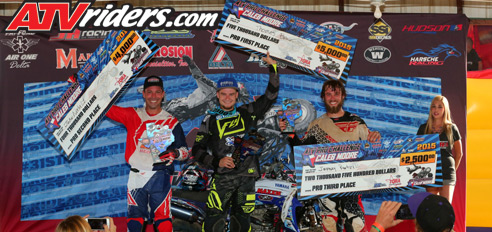 2015 ATV Pro Challenge Motocross Podium (left to right)
John Natalie Jr (2nd), Thomas Brown (1st), Jeffrey Rastrelli (3rd)
With more than $35,000 in purse money, including over $5,000 for the winner, nearly 200 racers, including 17 pros came here to compete. The Pro race was run with a two-heat qualifying format, followed by a single-moto main.
Thomas took the lead from holeshot winner Johnny Hale in the third corner and was never seriously challenged from there. This marked Thomas' third start and his first victory in the event.
Johnny Hale grabbed the Holeshot followed by Thomas Brown
"We went 31 style as Michelle Moore would say," said Thomas. "I can't tell you how much I've wanted to win this race. The first year, I came out swinging and came up short. Last year, I thought I had it in the bag and I let it slip away from me. This year, I put in the work and worked out. The Maxxis Yamaha worked out great.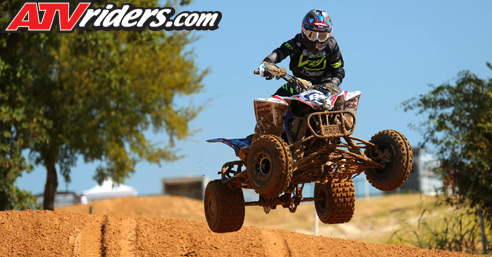 Thomas Brown quickly took over the lead in the first lap
"The start was wild," explained Thomas. "I had a late reaction, and I was mid pack coming into the corner. I chose an inside gate and I was running fifth or sixth on the inside. Someone got into the back of Natalie, I got right behind Johnny and we went through the first corner first and second. In the second corner I caught him on the inside and it was a drag race down the straightaway. I got the lead in the third corner and it was hammer down from there. I knew there were some fast guys here, so I ran hard for the first couple of laps. Then I just settled into a pace, ran smooth and ran my own race."
Thomas Brown held on to claim his first win in three tries for a 31 combo
Michelle Moore gave Thomas a keepsake to wear during the race: a necklace bearing Caleb Moore's fingerprint.
"Michelle let me borrow Caleb's fingerprint for the day and, you know what, it worked," said Thomas. "He was watching over me today. I am really stoked to win this race in Caleb's honor. He watches over all of us at each and every event we race."