ATV Pro Challenge Motocross
in Memory of Caleb Moore
Underground MX
October 11, 2014

2014 ATV Pro Challenge Motocross SxS Report
Cody Taylor Wins, Cody Miller & Shawn Hess Round Out Podium

2014 ATV Pro Challenge MX
in Memory of Caleb Moore
Kemp, TX (10/14/2014) – There was plenty of SxS action at the 2014 Pro Challenge in Memory of Caleb Moore, as last years winner Cody Taylor had a repeat performance and ran away with the SxS win, with Can-Am's Cody Miller joining him on the podium in second and Shawn Hess in third.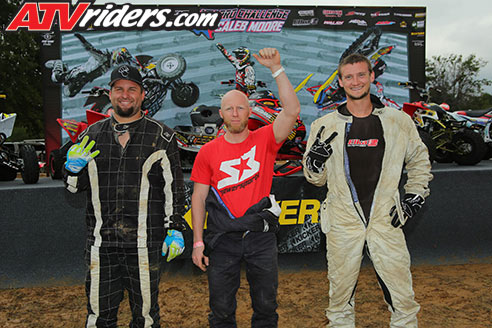 2014 ATV Pro Challenge SxS Podium (left to right)
Shawn Hess (3rd), Cody Taylor (1st), Cody Miller (2nd)
There was a good turnout for the UTV class, with many racers having been friends of Caleb Moore, but one thing made it extra special as Colten Moore and his father Wade Moore both raced in the SxS class to honor Caleb Moore's memory.
Colten Moore raced his Polaris RZR XP at the 2014 ATV Pro Challenge in memory of his brother Caleb Moore
"I hope this keeps growing and keeps going so everyone can come out here and ride and remember Caleb," stated Caleb Moore's brother Colten Moore.
A different course had originally been planned for the SxS races at the Pro Challenge this year, but heavy rains the night before caused an excessive amount of mud in the off-road section Therefore a decision was made that the SxS class would run the entire motocross track instead, much to the delight of all the racers.
Last year's event champion, Cody Taylor was on a mission. After qualifying first, Taylor had a good position on the front line for the start of the main event and that really worked to his advantage as he grabbed the holeshot and never looked back. Taylor, who mostly sticks to cross-country style racing looked right at home on the MX track as he cruised to what looked like an easy win.
Cody Taylor grabbed the holeshot & held the lead until the finish
"When they threw the green flag I pulled away and grabbed the holeshot. This is a little out of my league here since I usually race cross-country and I was a little worried about the rain, but it all worked out and I am really stoked to take the win again this year," stated Taylor.
Cody Taylor earned his second consecutive win at the ATV Pro Challenge in the Open UTV Class