ATV Pro Challenge Motocross
in Memory of Caleb Moore
Underground MX
October 11, 2014

David Haagsma Wins 2014 ATV Pro Challenge Motocross
Thomas Brown & Johnny Hale Round Out Pro ATV MX Podium

2014 ATV Pro Challenge MX
in Memory of Caleb Moore
Kemp, TX (10/13/2014) – For the second straight year, the ATV Pro Challenge Caleb Moore Memorial race was held at Underground MX in Kemp, TX, where H&M Motorsports' David Haagsma edged out Yamaha's Thomas Brown for the win.
2014 ATV Pro Challenge Motocross Podium (left to right)
Johnny Hale (3rd), David Haagsma (1st), Thomas Brown (2nd)
Once again the race was held in conjunction with the final round of the TQRA series. This year the format was a bit different with a two-moto format instead of three. The Pro turnout was lower than last year, but several racers from out of state made the trek to the event, including California based, David Haagsma, Blake Granger out of Louisiana, and Ruby Davis from Washington state who joined a host of local Texas and Oklahoma riders.
Heavy rain moved in the night before and drenched the track, but the sandy Texas soil dried out nicely and made for good racing conditions. The dry, sandy conditions are something that Pro WORCS & Quad Cross racer David Haagsma is used to and it showed as he shot off the start to grab the moto one holeshot.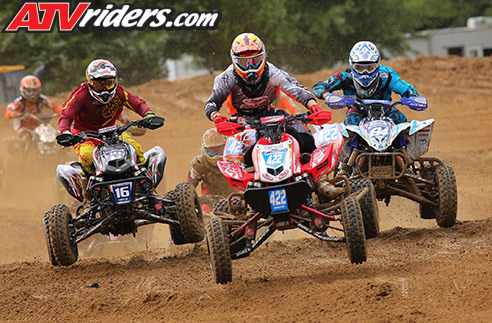 Pro WORCS Racer David Haagsma grabbed Moto 1 Holeshot with #16 Johnny Hale & #84 Thomas Brown close behind
Despite his excellent start, Haagsma was not alone as Johnny Hale and Thomas Brown were close behind. Brown soon made the pass on Hale and began to pressure Haagsma. After showing him a wheel a few times, Brown tried to make a move for the lead, but Haagsma was able to hold the inside line and shut him down. Brown ran out of time before he was able to make another attempt to pass, which gave Haagsma the moto one win.
David Haagsma leads Thomas Brown around the sandy track at Underground MX. Haagsma rode smart & was able to take the win despite the many pass attempts by Brown
"My Maxxis tires hooked up great, we ran a little less air pressure because of the wet conditions to start and it worked great. I got a good jump and I got the holeshot. Brown was right there with me the whole time and he almost had me a couple times but I was able to hold him off," said Haagsma of his first moto win.
Moto two was another great run for Haagsma as he grabbed his second holeshot of the day.
David Haagsma once again took the ATV Pro Challenge Holeshot in Moto 2