2012 Rally on the Rocks - Moab, Utah SxS / UTV Riding Event
Side-by-Side Riding Event in Scenic Moab, Utah - Article By: Jeff Vanasdal
2012 Rally on the Rocks SxS / UTV Riding Event Links

Moab, UT - When we arrived in Moab, UT and I was immediately impressed with the rugged terrain and picturesque scenery around the area. We met up with Lanse Chournos who is co-owner of the Rally on the Rocks Side-by-Side riding event with Jared Livingston. Lanse was kind enough to lend us his own personal Polaris RZR S 800 SxS to take out on the trails for the day. Conveniently the Polaris RZR was set up for riding on the challenging terrain of Moab.. Aftermarket shocks and wheels and tires provided a smooth ride that made me feel very comfortable out on the rocky trails.

Moab, Utah offers some of the best and most scenic trails
The day started around 10 am as we met up with the first riding group that were headed out on a trail called Hell's Revenge. Immediately stomach cringed after hearing the name of the trail that were about to traverse. I knew we were in for a challenging course, and that it was!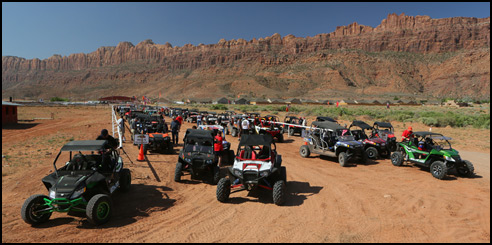 There was many guided group rides throughout the weekend with 20-30 SxS vehicles per group
After our guide took head count of how many side-by-sides that were tagging along in our group and we headed out on the road with a police escort from the staging area to the trail head. The promoters of the event try to keep each riding group to 20-30 side-by-sides which was a good manageable number of side-by-sides. Once we hit the trail head, I was speechless as I looked up into the hills we were about to climb. As we waited to make our ascent, Harlen Foley of ATVriders.com was in the passenger seat and was sure to point out the Lions Back in the distance; one of the most famous hill climbs in Moab which is now shut down because so many people have flipped down the hill. Again, I felt my stomach drop and I took a deep breath before pressing down the gas pedal.