2012 Rally on the Rocks - Moab, Utah SxS / UTV Riding Event
::Continued::
This was my first time in Moab and also the first time I would drive on such a challenging course with a Side-by-Side. Harlen gave me a few pointers before making the first climb in the Polaris RZR 800 S. I was amazed how well the RZR climbed the steep sand stone hills even in two wheel drive!
There are many challenging areas along Moab's Hell's Revenge Trail
Once we reached the top of the first hill, you could look out for miles over the rolling slick rock hills. We kicked the RZR in four-wheel drive to ensure the maximum amount of traction to navigate the trail for the duration of our ride.
Camp Chef cooked up some amazing pulled pork on their portable cooking equipment & they prepared lunch for everyone on the Hell's Revenage Trail on Thursday near the half way point of the drive along the Colorado River overlook
About half-way into the ride we were greeted by Camp Chef who had set out on the trail about an hour before our group. They had lunch set up on top of a beautiful over look of the Colorado River. Camp Chef slow roasted pulled pork for 16 hours in one of their Smoke Vault smokers, and they hauled out their Outdoor Camp Oven, Sherpa Mountain Series Table, and Single Burner Cooker on the trail to heat and serve lunch to everyone on the ride,
Camp Chef cooked for over 100 people all on their portable grills and ovens that they hauled in on two Side-by-Sides at Rally on the Rocks
"We wanted to chose a fairly technical trail and one that was really popular to show that you can haul in enough Camp Chef cooking supplies on your SxS / UTV to feed a just under a hundred people. We wanted to show that the Camp Chef Cooking supplies were packable and rugged and easy to set up and tear down," said Camp Chef's Brandon Sparrow.
Moab's riding trails are both breath taking and challenging, but their are typically by-pass trails for those looking for less adventure!
Once we got ourselves refueled and hydrated we headed back out on the trail. Moab offers some of the best riding on earth and is like nothing else. Hell's Revenge is just one of the many marked trails in Moab. This particular trail has rolling hill climbs, steep rock crawls, sandy desert trails, and a few obscurely named obstacles including Devil's Highway Hot Tub, Escalator, Hell's Gate and many others, but these named obstacles were off-limits to those on the ride.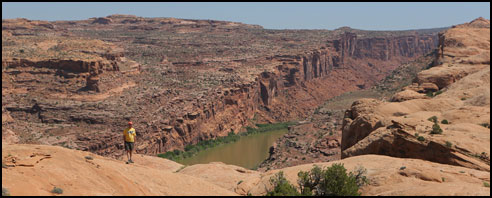 Mark Holz owner of Holz Racing stands near a cliff overlooking the Colorado River
"This is our third trip out here and the scenery is unbelievable. It is a different type of riding then we are used to, it's a little slower pace but it is interesting and challenging and some of it is real technical." Said Mark Holz Owner of Holz Racing