Moab Trail System ATV & UTV / SxS Riding Area Review
::Continued::
The Moab trail system includes hundreds of trails that range anywhere from easy to difficult, giving riders an almost endless array of terrain and scenery. The expansive trail systems of Moab encompass thousands of miles and feature every type of terrain imaginable. There are rocky trails, sand dunes, washes, canyons and mountain trails. The elevations of Moab can go all the way from 4,000 feet up to past 12,000 feet. The lower elevation trails are quite popular but it can get very hot during the summer months; however, the upper elevations offer a great way to beat the heat in the summer time and give amazing alpine and mountain views, including beautiful aspen forests. If you explore the Mt La Sal region in the late fall and early winter, you can even encounter a little snow, which only adds to the beauty of the area.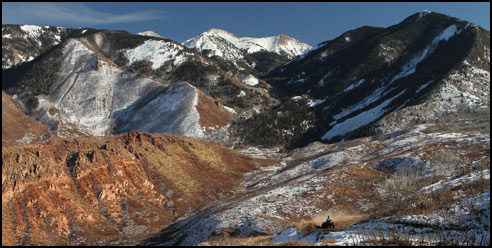 Moab, Utah trails go from 4,000 to over 12,000 feet in elevation at the top of Mt La Sal, which can provide a break from the heat in the summers months, and in the winter, it is a great location to go play in the snow
Even if you are an inexperienced rider, there are plenty of trail systems to explore that are easy to navigate. The Picture Frame Arch and Crystal Geyser trails are two popular trail systems that are rated as being easy, while the Determination Towers trail and La Sal Pass trails are considered moderate. For the more adventurous types, the Seven mile Rim trail and Top of the World trails are on the list of more difficult terrain to navigate.
All of the trail systems are marked with painted rocks along the way for easy navigation. The rocks are painted white for easy visibility and help keep people on the trail. Due to the delicate ecosystem surrounding the area, it is very important to follow the trail and stick to it in order not to damage the environment and keep the trails system open for riding.
The Moab trails are well marked with sign and white painted arrows on the rock trails, but it is still highly recommended that you carry a trail map with you at all times just in case you run into issues on your ride
Before just heading out and deciding to ride at Moab, there are few things that one should be aware of. All vehicles are required to be registered in order to ride. Owners of ATVs, off-highway motorcycles, or snowmobiles brought into Utah by non-residents must obtain a non-resident permit for their machine. Non-resident permits cost $30 and are good for one year from the month of purchase and can be purchased at authorized vendor locations throughout the state. Some states have a reciprocity agreement with Utah and will not require additional registration. You can check www.discovermoab.com to see if your state is exempt