Moab Trail System ATV & UTV / SxS Riding Area Review
::Continued::
If you do not have an ATV or Side-by-Side and wish to experience the trails first hand, there are plenty of places to rent one along the way. We highly recommend High Point Hummer and ATV rentals, who have a wide variety of machines and also offer guided tours. You can check out www.highpointhummer.com for more information on their services and prices.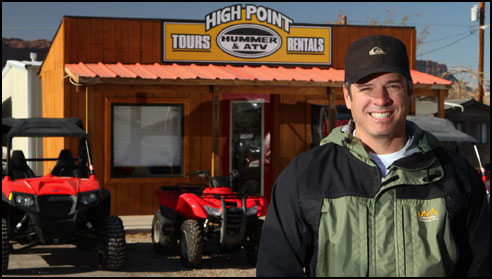 High Point Hummer & ATV Rentals has some of the best machines & knowledge of the Moab Trail Stystem. They have many ATV & Side-by-Sides to choose from including the Honda Rancher 420 Utility ATV, Polaris Sportsman 550 two seat ATV, Polaris RZR 570, RZR S 800, RZR 4 800, RZR XP 900, & RZR XP 4 900 Side-by-Sides & they also offer guided ATV & SxS tours
Since Moab it is a wilderness type of riding it is important to have the proper safety equipment and supplies before heading off on any trails. Although the trails are clearly marked, we recommend having a topographical map of the area to guide you. You can also purchase a book called "ATV Trails Guide Moab, UT" by Charles A. Wells, which gives a detailed overview of the area and trails, and includes maps of the trails system. We used this book on our ride and it came in very handy. One important rule is to never ride alone as the trails can be unpredictable at times. It is also important to bring plenty of water and some food. A tow rope could come in handy and even a small tool kit or a spare tire if you have room.
| | |
| --- | --- |
| | |
| Before hitting the trails we suggest purchasing an ATV trail guide book that includes maps of the Moab trail system | There are restroom & picknic areas along some of the main trails at Moab that are a nice feature to the trail system |
Even though Moab seems like a remote place, there are plenty of areas where you can get cell phone reception, so we recommend bringing along your phone in case anything should happen. While there are many sandy areas in Moab, dune flags are only required in designated sand dune areas, so be sure to check beforehand whether the area you are riding will require one.
The Moab Trail System features many terrains including rocky sections, desert like sections with sand dunes, and even some snow in the winter months
The most popular times to visit Moab are of course late spring and summer when the weather is warm. We took our trip in late fall, and even though it was a little cooler outside, we were still treated to good weather. The cooler weather also limits the number of people, offering a less crowded riding experience for those who wish to get away from it all. Another advantage to going in the off-season is that lodging and other services are quite a bit cheaper and there are incredible deals to be had on hotels, dining and other recreational activities.

Once you have taken care of business, and have all of your safety gear and registrations in order, you should be ready to get out there and have a great time like we did. We recommend, if you have the time, to take a few days and explore the area. There are so many sights to see and so many different trails, you will never be bored as there is something different around every turn.