Yamaha Rhino 700 UTV / SxS Island Adventure Ride in Cozumel, Mexico
::Continued::
To be honest we really had no idea where we were, but the saw a sign that said Paradise beach that looked really nice so we decided to stop and check it out. It was $2 to access the beach and other amenities. Paradise Beach was one of the coolest beaches I have ever seen. They had water trampolines, parasailing, Jet Ski rentals, and many blow-up obstacle courses floating on the water. There were also many small shops long the beach that sold hand made crafts and numerous other things. I went ahead and purchased a set of goggles and a Cuban cigar at one of the many shops and my girlfriend and I headed to the beach to dive for sea shells.
The beautiful crystal clear waters of Cozumel not only make perfect conditions to go snorkeling but also a perfect place to propose to your girlfriend!
My girlfriend Olivia handed over the goggles and told me to see what I could find. It was when I dove under the water that I realized it was that time to pop "the question". As I swam under water I struggled to pull the ring out of my pocket without dropping it. I then came up for air and Olivia said "I think I found something its under my foot." I dove in again and acted like I was reaching for a shell under her foot. I slowly came to the surface as the diamond glimmered in the sun in front of her face. Before I could ask her the question she said with big eyes "You found that!?" I just laughed and said "Will you marry me?" Of course she said yes, despite it being a store bought ring and not a lost ring belonging to a sunken pirate ship's treasure chest. After sharing a drink and smoking the Cuban cigar in celebration we packed up and climbed aboard the Yamaha Rhino.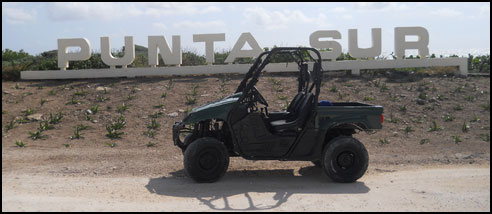 The next stop would be the southern most point on Cozumel Island called Punta Sur. There we were greeted by another breath taking beach. Punta Sur is also home to the Celarain Lighthouse, Mayan Ruins, and the Faro Celerain Eco Park. It is $12 a person to access the lighthouse, ruins, and eco park. There is only one dirt road that takes you back to the park, which runs right along the beach.
We visited one of the many Mayan Ruins on Cozumel island called the El Caracol
About half way to the lighthouse is a small Mayan Ruin called the El Caracol. . The building was designed to whistle in strong winds to warn of approaching hurricanes. El Carocol is believed to be built between 1200 and 1400 A.D.
| | |
| --- | --- |
| | |
| Mexico has two kinds of raccoons, the domestic racoon as we know in the United States & coati pictured right | Cozumel is also home to many reptile species like this iguana we found sunning itself on the rocks at Punta Sur |
Surrounding the ruins are mangroves swamps, marshes and sand dunes. The various terrains and vegetation provide homes for many species of animals live including crocodiles, sea turtles, birds, and other mammals.

You can see for miles along the coast on top of the Celarian Lighthouse