Yamaha Rhino 700 UTV / SxS Island Adventure Ride in Cozumel, Mexico
::Continued::
Another attraction at Punta Sur is the Celarain Lighthouse. It is 133 steps to the top and was used to save ships from running a ground. From the top of the Celarain lighthouse the view was amazing and you can see for miles along the coast line in both directions. After exploring what all Punta Sur had to offer we decided it was time to head back into town and call it a night.
| | |
| --- | --- |
| | |
| The Celerian Light house looks like something you would see on a post card | The Faro Celerain Eco Park small boardwalk makes it easier to see wildlife |
The next day we woke up at 7 AM and took a morning drive though town and headed to the east side of the island. The drive to the other side of the island isn't as scenic as driving along the southern coast as we had to drive down the middle of the island. There was however many stops along the way that one could participate in including a tour of Cozumel's Tequila factory and San Gerviso Mayan Ruins. The east side of the island features a much rougher current than the west coast.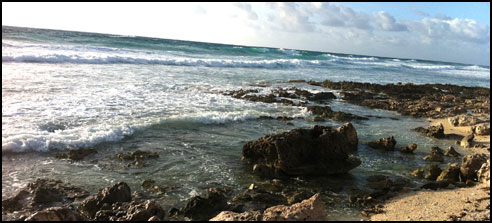 The east coast of Cozumel has much rougher waters & rocker beaches than the west cost
We stopped a few times along the coast to admire the beaches and look for shells. To our surprise, we found enough Conk shells that we could of filled the Rhino bed with but we could only choose a few to take with us.
| | |
| --- | --- |
| | |
| We found many conk shells like this one along the east coast shore line | We had a blast exploring Cozumel on the Yamaha Rhino 700 UTV / SxS |
Touring the island of Cozumel on a Yamaha Rhino Side-by-Side was a one-of-a-kind experience that I will never forget. The Rhino worked great for getting us around the island and we wish we had more time to explore what all of Cozumel had to offer. We hope to return once again to this island paradise and rip it up on an ATV or UTV!