Arctic Cat ATV & SxS Factory Tour in Thief River Falls, MN
Arctic Cat ATV / UTV Links

Thief River Falls, MN (11/22/2011) - In celebration of their 50th anniversary, Arctic Cat hosted a huge celebration in the town of Thief River Falls, MN where their assembly plant is located and as a part of that celebration, the American manufacturer was offering tours of their facility, and of course we at ATVRiders.com could not pass up the opportunity to see what goes on behind the scenes.

Arctic Cat got its start back in 1961 at the Thief River Falls facility and now occupies more than 800,000 square feet of space at three facilities and has become a world leader in Snowmobile, ATV and UTV products. As part of our tour we were able to get a glimpse into how the Thief River Falls facility functions and also how some of their products are made.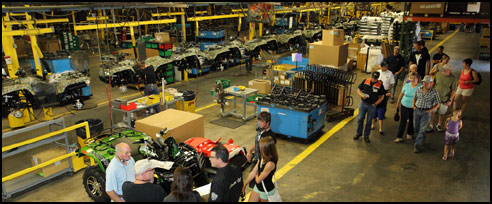 At Arctic Cat's 50th Anniversary Celebration visitors had a chance to tour the Arctic Cat Facility in Thief River Falls, MN & learn about how Arctic Cat ATV, UTVs, & Snowmobiles are made every day
Our first stop on the tour was in the call center where Arctic Cat representatives take more than 130,000 calls a day. The Service Parts Inventory Management department is also housed in the same area where ten controllers are responsible for handling over 60,000 different part numbers.
The next stop on our tour was the Pre-Assembly department where many of the 1,200 components on Arctic Cat's snowmobiles are put together prior to reaching the main assembly line. Pre-Assembly includes fuel tanks, steering, engine ACT Drive and suspension to name a few.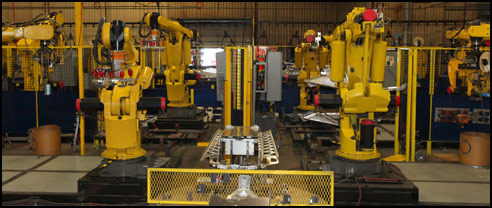 Arctic Cat uses 11 Self-Piercing Rivet Cell robots which are used to help assemble many Arctic Cat's Twin Spar snowmobile chassis'
One of the stops along the way through the facility was the Self-Piercing Rivet Cell where 11 robots build the Twin Spar chassis used in Arctic Cat's F Series, Touring and Jaguar Z1 snowmobiles. It's identical technology and equipment that is used in the automobile industry.