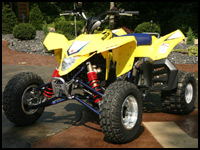 Suzuki LTR450 QuadRacer
Salem, Wisconsin
- Since its release in 2006, the Suzuki LT450R QuadRacer has been one of the most successful race quads on the market today. It's low profile and wider stance has helped make it an ideal choice for the motocross track, which is what Suzuki intended. Now with the release of the 2008 model, it is apparent, with all the upgrades done to the machine that Suzuki means business out on the track. Suzuki recently invited ATVRiders to come check out the new 2008 Quadracer. Their location of choice…Doug Gust's house.
Digger's place seemed like the perfect location for this venture. After all, there is no one else who has logged more hours of R&D and testing on the Quadracer than Gust, and the layout of his track was idyllic. The track boasts several very large jumps including a 90-foot triple and some good-sized doubles. There is also a whoops section, long straight-a-ways, a rhythm section, some off camber turns and lots of big burms. The outer section of the track is more outdoor style, open and fast while the inside section is more reminiscent of a supercross style layout, giving lots of variety for putting the '08 Quadracer to the test. It was a typical late summer day when we arrived at Doug's house. It was warm and humid with thunderstorms in the forecast for later that day so we decided to suit up and get down to business while Mother Nature was still in the mood to cooperate.
| | |
| --- | --- |
| | |
| Doug Gust's house is tucked away in the woods, and it is surrounded by a motocross track. Doug's playground also has a airplane runway, rc car track, and a large lake with a water slide | Many of the jumps surrounding Doug's house are not for the faint of heart including the massive double named "King Kong", which launches Doug high enough to clear his entire house |
Judging by appearances, no one would be able to guess that the 2008 Suzuki LT450R QuadRacer has had 100+ upgrades added to it over the 2007 model. In fact, Suzuki was so convinced that we would be able to feel the changes, they not only brought a 2008 model, but also a 2007 model for us to compare it to, which we thought was pretty cool. We hopped on the 2007 model first to get a feel for it, then the 2008 to see just how much better it really was. We have to admit, the improvements were quite remarkable.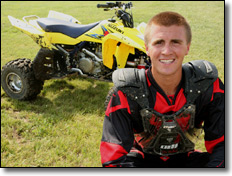 ATVriders.com Test Rider
WPSA MX Racer - Nick Davis
"After riding both of them I can tell that the 2008 is way faster than the 2007. There's no comparison." Stated Gust after several laps on each machine. "Honestly I didn't think it was stock when I first got on it. It pulled as hard as my '07 I have built for racing." Added ATVRiders test rider, Nick Davis. According to Suzuki representative Rod Lopusnak, the 2008 has a gain of three horsepower over the 2007, plus something else that Suzuki refers to as the "ECM Logics System". "The Logics System monitors throttle position and the RPM's and the speed at which that throttle and RPM quickness is hit. Basically it measures how fast the rider reacts." Explained Lopusnak. "The ECM adjusts the spray which helps control traction and doesn't allow the wheels to spin quite as fast. There will still be quite a bit of wheel spin, but what it does is it slows down the wheel spin to give you much better traction. This was one thing that was key and it showed much better times in the lap times." Our test rider definitely noticed how the ECM worked out on the track. "It was still a controllable slide but when you really punched it, it hooked up right away, there wasn't much wheel spin, it just bit and pulled really hard coming out of the corners." Stated Davis.
| | |
| --- | --- |
| | |