Great Falls, MT (8/25/2016) -
While we usually yawn when we see manufacturers come out with so-called "special editions," the 2017 RZR XP 1000 EPS SE models are the real deal. Instead of just tacking on some cheap accessories and raising the price, Polaris Special Edition models have brawn behind the badge.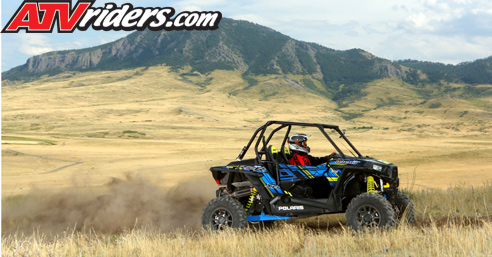 2017 Polaris RZR XP 1000 Special Edition
We teamed up with WORCS racer Ray Bulloch and rode the new XP 1000 at the private Bull Run ATV trail system just outside Great Falls, Montana. This community owned trail system run by Russ Ehnes. This is our third trip here over the years. They have some great trails with nice big hills and overlooks, as well as pine forests, bridge crossings and more. It was truly an amazing place to ride. We saw plenty of big mule deer, which was exciting, and it's a working cattle ranch, so there were plenty of cows and horses around.
To test out the new Polaris Ride Command system we headed to Great Falls, MT to a working cattle ranch, which is one of our all-time favorite test drive locations
There are three different models of the new XP 1000 SE: Velocity Blue LE, EPS High Lifter Edition, and the EPS Gold Matte Metallic LE. We drove the Velocity Blue model. While we're not crazy about the color scheme-It's a bit flamboyant for our tastes-the package is awesome. Featuring Ride Command, which is a technological marvel for off-road enthusiasts, the new machine also has a list of features that would make any off-roader drool.
2017 Polaris RZR XP 1000 Special Edition
The 110 horsepower ProStar 1000 H.O. engine is a piece of mechanical goodness. With dual overhead cams, electronic fuel injection, four valves per cylinder, dual bore 48mm throttle bodies and long-tip fuel injectors, this engine is a truly masterpiece of engineering.
The high-flow clutch system with a race-derived ducting offers ample airflow to ensure clutches and belt stay cool. Walker Evans provided the shocks, and it's obvious. The ride is smooth and the machine just eats up the bumps. With 18 inches of rear suspension travel, 16 inches of front travel and a 13.5-inch ground clearance, it can take on virtually all obstacles.
The 90-inch wheelbase makes it nimble without being twitchy.The all-wheel-drive system is spot on. Combine that with electronic power steering, adjustable seat slider, tilt wheel, storage box and more, this RZR's cockpit is a nice place in which to spend time.
WORCS Pro SXS Racer, Ray Bulloch, test drove the new 2017 Polaris RZR XP 1000 SE
Don't just take our word for it. Ray Bulloch has been racing RZRs in WORCS for years and he is a huge fan of the new vehicle.
"It performed very well," said Bulloch. "I think it's a great platform and there are a lot of products available from Polaris and the aftermarket for that machine. We beat on my racing RZR quite a bit and never have any problems with the stock components. Going from various different RZRs, I still they have the best feel as far as handling and power of any machine I've driven."
::CONTINUED::