Baltimore, MD (7/6/2017) -
Once upon a time, parents who wanted to get their kids into off roading had very few options. With the outstanding growth in the UTV industry, Polaris has changed that with the introduction of the Polaris Ace 150, which has a long list of features that will make it an attractive ride for any youth wheeler aged 10 an up.
2017 Polaris ACE 150
Safety isn't just a buzzword when it comes to young riders. It's imperative and the Polaris Ace 150 has it in spades. The machine has a host of features that help protect young riders as they head off road. Firstly, it has a full roll cage, safety belts and window nets. While any off road vehicle must be respected and proper riding gear including a helmet are must, things can go wrong and we applaud Polaris for bringing these safety features into this machine from their larger UTVs.
The Ace 150 features a unique speed control system that allows parents to adjust the top speed of the vehicle as their young rider gets more familiar with it. Using jumpers situated behind the seat, top speed can be limited to the default 10 mph all the way up to 15, 22, and 29 mph. This allows the machine to grow with the child, ensuring more than one season before having to go shopping again.
The speed limit on the Polaris ACE comes factory set at 10 MPH, but as the driver becomes more comfortable, the speed can be increased by sliding the seat forward to reveal the fuse box that is protected by a bar held down with two push pins, which easily accessible by a parent
The single seater cannot be started until the brake pedal is fully depressed. In fact, this is where we ran into problems when the sensor stopped working. Hanover Motorsports in Hanover, PA, came to the rescue and quickly replaced the sensor. We also learned that bleeding the brakes can sometimes fix this problem without a visit to the dealership.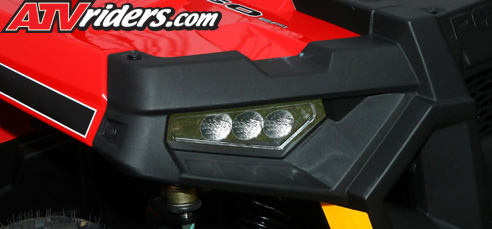 The Polaris ACE 150 features Dual Front LED Running Lights
Like a motorcycle, the front LED headlights and single LED taillight are always on when it's running, making it more visible to others, which is a great added safety feature for young drivers.
So it's safe, but can it perform? We employed 12-year-old Faith Foley to put the ride through its paces, and Don's in York, PA allowed us to pickup the first unit they received. After several hours in the seat, Faith gave a huge thumbs to the Polaris ACE 150.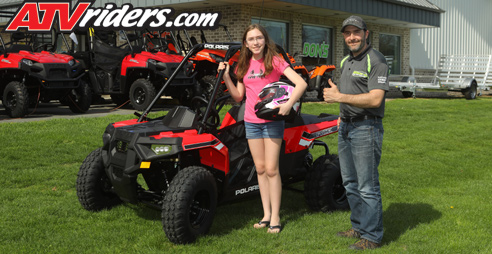 We picked up our Polaris ACE 150 review unit from Don's in York, PA
Along with its 4-stroke, 149cc fuel injected single cylinder engine, the Ace 150 includes suspension, wheels and tires and the power to keep any young offroad enthusiast interested and Faith had a blast.
Faith Foley really enjoys driving the Polaris ACE 150, and while she started out riding an ATV, she now prefers a roll cage for the added safety
::CONTINUED::