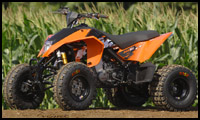 All-New KTM Sport ATV
525XC & 450XC
Providence, RI (10/10/2007)
- ATV off-road racing has just received a major shot in the arm in the form of the new 450XC and 525XC racing quads from KTM. The passionate Austrian company has built its name by producing purpose-built off-road racing engine cycles for the devoted enthusiast, and in the midst of the company's record growth they have unleashed the most race ready XC ATV ever. Utilizing the vast experience of seasoned KTM engineers, as well as direct development input from ATV racing icon Tim Farr, the new machines are the most race-oriented quads currently being mass produced. The impact of KTM's plunge into the sport quad market is very significant for many reasons.
KTM's engine cycles have been the most popular XC dirt bikes for years, and have won every major series all over the world. Even the most hardcore ATV racers know that Mike Lafferty, Shane Watts, Juha Salminen and David Knight have used KTM's to win titles in GNCC, National Hare Scrambles, World Enduro, Endurocross, Last Man Standing- the list goes on and on. Anyone who has attended a GNCC event has seen the unparalleled level of commitment KTM has put into winning races and championships, with a semi full of factory riders and various satellite teams campaigning the orange machines. KTM's dedication to the sport starts at the very heart of the company, as the president of KTM North America is none other than the son of 7-time national enduro champion Dick Burleson. Just imagine if Bill Ballance's son grew up to be the president of Yamaha's ATV division and you get the picture.
KTM's Tim Farr has claimed 3 National Titles on the KTM ATV in its first year of production by wrapping up the ATVA Extreme Dirt Track Pro Am Unlimited Title, AMA SuperMoto Championship, and more recently the AMA Maxxis Endurocross Sport ATV Championship, and he did it on nearly stock machines
KTM has used their "ready to race" philosophy to offer the first production ATV specifically designed to race cross country and off-road events with little to no modifications necessary. It has been common for racers to buy a sport quad on Saturday and race it on Sunday, but not with the performance level of the KTM XC's. From major components such as chromoly adjustable a-arms and Ohlins long travel shocks to minor details like a kill switch, every component on the XC's has been carefully chosen to offer race ready performance.

What may appear as a standard ATV at first look is in actuality a clever mix of proven designs and innovative ideas. KTM's long history of utilizing cutting edge technology and outside-the-box thinking is very apparent in the XC's air box and intake system, 4-piston front brake calipers, 4-way adjustable aluminum steering stem, and integrated Ohlins steering dampener mounts, just to name a few. Much more of a pure race quad than any of the Big Four 450's, and even more pinpointed towards off-road racing than the new CanAm DS450, the KTM XC450 and 525 are pushing the bar higher for all manufacturers. This ultimately provides the racer with a better performing, less expensive to modify machine that is inching ever closer to the real time technology that up until now has only been incorporated into two wheeled production machines.